10 Popular Patterns to Liven Up Your Space
Adding patterns to your space quickly changes the mood and feeling, adding visual interest and personality. It's a great option if you're looking for a fresh spin on your interior decorating.
Choosing the right patterns can help you achieve any look, whether it be bold and colorful or sophisticated and elegant. Many patterns can also be successfully combined, but you'll need to proceed with caution to avoid a clash.
Let's take a look at some popular patterns that can add pizzaz to your pad!
Stripes: This versatile classic can be added to almost any room and look splendid. Long stripes of alternating color, such as black and white, can be bold and add an eye-catching statement piece to a room. Smaller stripes in neutral tones can add calmness and soft texture. This pattern is a classic interior design staple and it's hard to go wrong with stripes.
Put this Pattern to Work: Stripes look stunning on accent walls to add a pop of interest. Bedding, upholstery, or throw pillows make wonderful striped accents to almost any room.
Polka Dots: Another timeless pattern to consider are polka dots. The round shapes in this pattern add softness to a space and can be paired nicely with many other patterns. Irregular polka dots are an artful variation of the traditional polka dot design and can add a hand-drawn, textured look to a room.
Put this Pattern to Work: Polka dots, whether irregular or traditional, look great on walls or upholstery to add soft visual interest. Throw pillows with this pattern are a perfect choice if you want some subtle glamour.
Florals and Botanicals: Florals and botanicals have bloomed in popularity. Whether it be a splash of vibrant flowers or layers of palm fronds, floral and botanical patterns bring nature indoors.
Put this Pattern to Work: Throw pillows or drapery can easily add a splash of liveliness to a space without being overwhelming. Floral bedding can give a feminine, inviting feel to a bedroom. And if you are feeling particularly bold, floral or botanical wallpaper can really make a space come alive!
Ikat: True ikat is made by expert weavers from around the world who hand-dye and weave these patterns, creating its famous color-bleeding appearance. These unique patterns are usually seen with a mix of scrolling, curved lines, and geometric shapes, such as diamonds.
Put this Pattern to Work: This textile pattern looks warm and inviting on any woven piece, whether it's the upholstery of your favorite armchair or your duvet cover. Throw pillows make great smaller accents if you'd like more of a subtle flair.
Buffalo Check: Looking for a cozy, welcoming pattern? Buffalo check is a classic pattern perfect for cozy fall or winter decorating. Large squares of alternating colors create a cross between checkers and plaid, making it somewhat of a minimalist plaid.
Put this Pattern to Work: Throw blankets and pillows create a cozy, welcoming feel. Rugs and drapery with a buffalo check pattern can also add texture and warmth to a space.
Geometrics: Geometric patterns are a great choice for adding visual interest and a modern edge to your space. This angular pattern is made up of repeating shapes such as triangles, circles, and squares. It is the perfect pattern for keeping things classic and clean while still adding complex texture.
Put this Pattern to Work: Geometrics make appealing accent walls and area rugs. Small decorations, such as vases or throw pillows, are perfect places for more subtle pops of this edgy design.
Brushstrokes: Watercolor brushstrokes aren't only for the canvas. This pattern is making its way onto many different aspects of a room, not just the wall decor. Rich and diluted colors bleed into each other in this pattern, which can add a natural, hand-made warmth to a space.
Put this Pattern to Work: Pillows, upholstery, bedding, and drapery are great places to add a splash with this pattern.
Animal Prints: These organic, natural patterns can easily add a wild, rustic feel to your space. A surprising choice as a mix-and-match partner to other patterns, many animal prints are found in neutral colors.
Put this Pattern to Work: Area rugs are an easy and popular way to incorporate animal prints. Throw pillows, throw blankets, and upholstery are also great options for added a natural, organic look. Avoid large scale furnishings in animal print to keep the look from becoming cliché.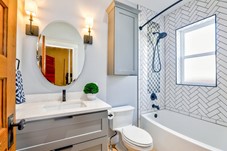 Herringbone: Though similar to chevron, herringbone adds an extra touch of elegance with its clean lines and tile-like appearance.
Put this Pattern to Work: Kitchen backsplashes and tiled showers make perfect places for a herringbone pattern. Throw pillows and other fabrics may be found with artsy, hand-drawn herringbone that can add texture and playfulness to a space.
Tribal Patterns: Tribal patterns can add wonderful texture and a worldwide feel to any space. Often comprised of many different colors, there is a tribal pattern for everyone. It can be found in subtle tones as well as vibrant, loud colors, lending itself for both statement pieces and calm accents.
Put this Pattern to Work: Pillows, area rugs, drapery, and bedding are often popular items to find in tribal patterns. Baskets and other weaves are great pieces to incorporate that add to the authentic tribal feel.
Playing with patterns is a fun, simple way to freshen up your space. With such a wide array of patterns to choose from, there is a pattern for every room and interior decorating style. If you aren't quite ready to add an accent wall or reupholster your favorite chair, try adding some throw pillows or an area rug to spice up your space. Get creative and have fun!