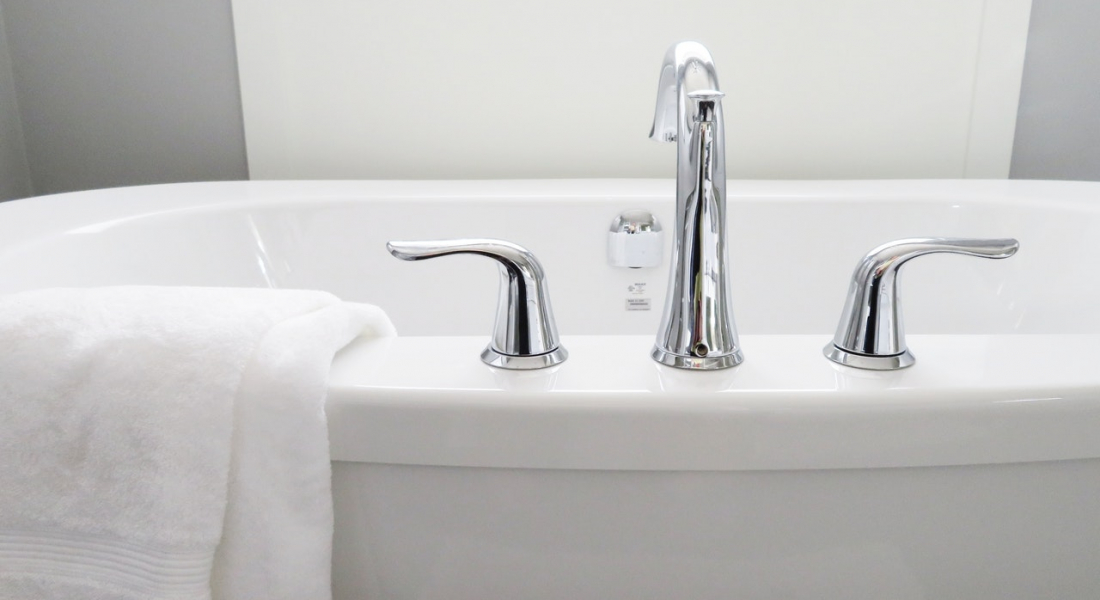 3 Common Misconceptions About Bathroom Design
Bathrooms and kitchens are two of the most commonly redesigned or remodeled rooms in a home – and for good reason. These two rooms can make a big difference in whether your place feels fresh or dated, and they often offer the largest return when you go to sell your home.
We meet with many clients that are looking for interior design services for their home, including the bathroom. If you're thinking of a powder room makeover or a master bath refresh, here are some of the most common misconceptions about bathroom design that you should be aware of.
Misconception about Bathroom Design #1: More is always better.
We all love a little more – more ice cream, more vacation days, more time to sleep on rainy mornings. Sometimes, though, more starts to become too much.
This is true for your bathroom, also. There are many great bathroom features and fixtures gracing the pages of home decorating magazines. Gorgeous soaking tubs, glass enclosed showers featuring rain shower heads, bidets, jacuzzi tubs, dual sinks, private toilet closets, and so much more.
It would be great to squeeze all of this into one luxury washroom experience, but space doesn't always permit. Or, sometimes bathrooms become so filled with fixtures that the space feels crowded and compromised – which is anything but relaxing. So, be realistic about what you really need in your bathroom, and then prioritize your list of wants.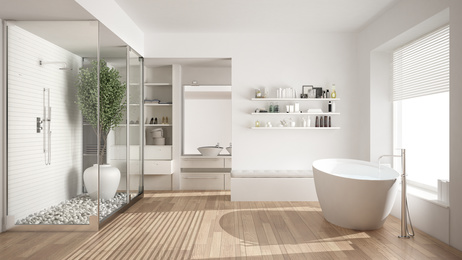 We can work with the space you have available to design a bathroom that is luxurious and relaxing. Even if you have to give up a fixture you were hoping to make room for, there are many special finishes or extra features that can still give your bathroom that spa-like ambiance you're seeking.
Misconception about Bathroom Design #2: Glamour doesn't belong in the bathroom.
When you think of glamorous living, you might envision oversized archways, spiral staircases with rows of gleaming spindles leading to a sweeping catwalk, marble pillars, and a gleaming grand piano offset by soft chandelier light. But you probably didn't think of the bathroom.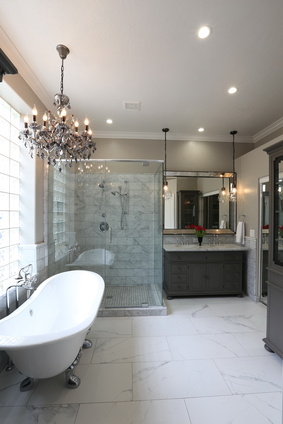 There is a misconception that some of design's most glamourous features are wasted in powder rooms or master baths. Now, granted, these rooms are not the gathering spot when entertaining. But glamour does belong in the bathroom, and here's why.
The juxtaposition of a largely utilitarian-in-nature room like the bathroom with the luxury of glamorous features makes for an unexpected and memorable space.
One of our favorite ways to add glamour to a restroom is with a chandelier that steals the show in the bathroom. Beautiful sink fixtures can also add glamour to the bathroom, as has been seen with the rise in popularity of vessel sinks.
Misconception about Bathroom Design #3: The DIY approach will save money.
If you're planning to redesign your home, but think you'll save money by skipping an interior designer for the bathroom – you may want to think again.
The bathroom may not be the center of your home, but it's an important space to get right. Taking into account plumbing, electrical, and practical considerations are important for achieving a room that is usable and beautiful.
There are also many different design factors at play in the bathroom, including counter surfaces, tile work, flooring, and fixture shapes and colors. Making sure that everything coordinates and looks good together in the space is no small task. An interior designer can help to create a look that works – and help you avoid the costly restocking fees that may be incurred due to poor choices in materials.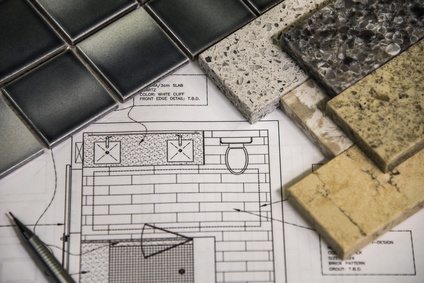 Mark These Conceptions Off Your List – and Hire an Interior Designer for Your Bathroom
Now that you are aware of three of the most common misconceptions about bathroom design, you're on your way to a room that will be beautiful and practical.
To make the most of the interior design process, give us a call for a consultation about your bathroom, kitchen, or home remodeling project. We would love to hear your ideas and find a way to achieve the look of your dreams.