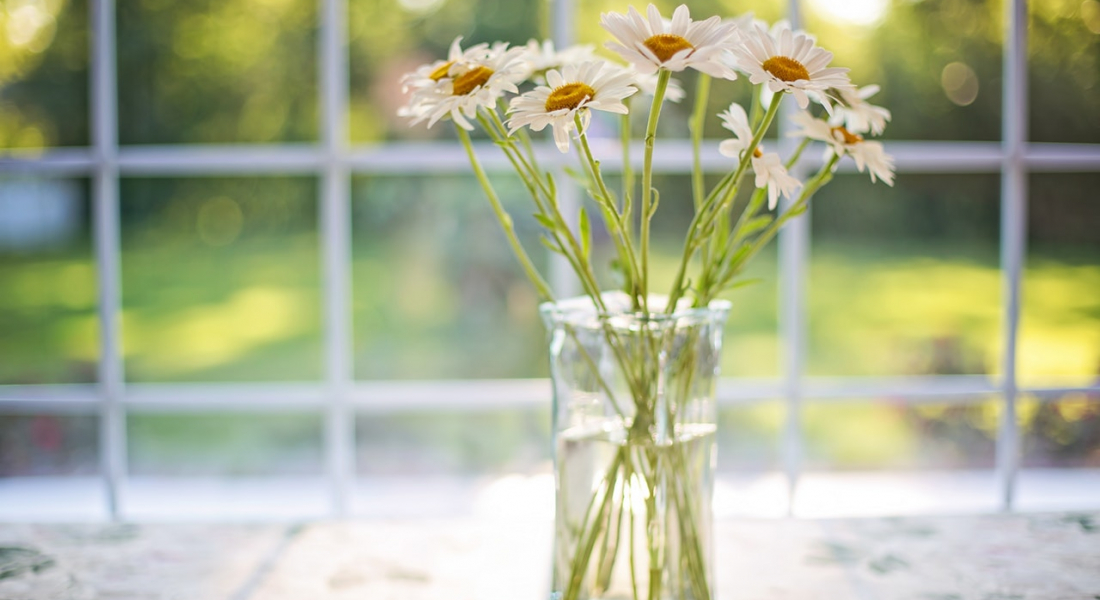 Bringing the Outdoors In – An Interior Design that Lets Nature Shine
We recently talked about making sure your design style transcends to your outdoor space – but how can you incorporate the great indoors into a great interior design look?
With spring underway outside the windows of our Melbourne, Florida interior design studio, it's hard to resist the urge to soak up the sun and enjoy this last burst of temperate weather. And if you're not living in the Sunshine State, spring promises a fresh, verdant start to summer after a dreary winter. Capturing the best of what nature has to offer and making the most of your time indoors by channeling the outdoors is what we've been busy working on during our latest Cocoa, Florida interior design project.
Here are a few insights and style tips to help you bring the outdoors in and make your space feel more refreshing and alive.
Survey the Scene
What are the most prominent natural elements surrounding your home? If you're fortunate enough to live near the ocean, the waves and sea breeze may provide the inspiration you need for an inter design re-do. Or, if your scenic vista includes mountains and pine forests instead of windswept waves, then you might opt for a luxury take on a classic lodge theme.
This was the starting point for one of our latest projects featuring a master bedroom design in Cocoa, Florida. The client wanted to re-invent the master suite. One glance out the wall of windows into the bright green tree canopy, and the concept of a "luxe treehouse" came to be.
Working with the client to develop a vision that felt comfortable and a space that seemed practical, our interior designer Victoria made the most of the second floor living space and window wall to create a master suite that lets the outside in.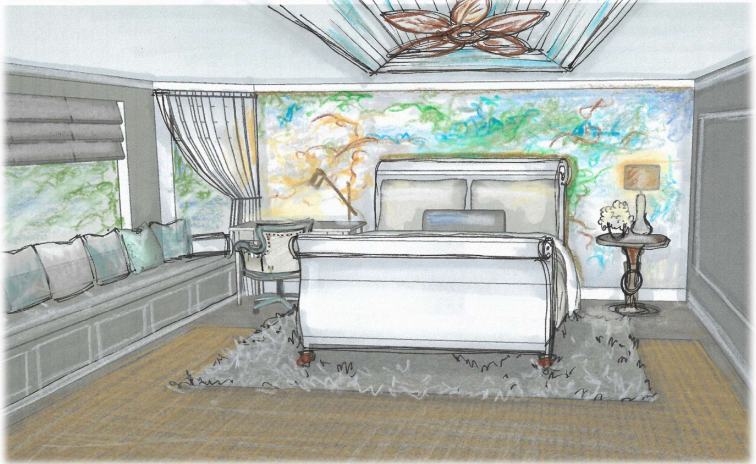 The window wall allows you to feel the color and movement of the trees just outside the home and also incorporates a cozy window seat.
Tip: Maximize the scenic views outside your windows with textured roller shades. The look is simple but elegant, and the shades don't detract from the beauty of nature outside. At the same time, they offer excellent privacy at night.
Stay tuned for more updates on the treehouse interior design project!
Accent Walls Inspired by Nature
An accent wall is a perfect opportunity to add natural colors and textures to your interior design. This is especially true if you'd like to incorporate natural elements into your look but lack the panoramic views or natural features just outside your windows.
One of our favorites is textured wallpaper, like the birch-look finish we installed on the wall in our Cocoa, Florida interior design studio.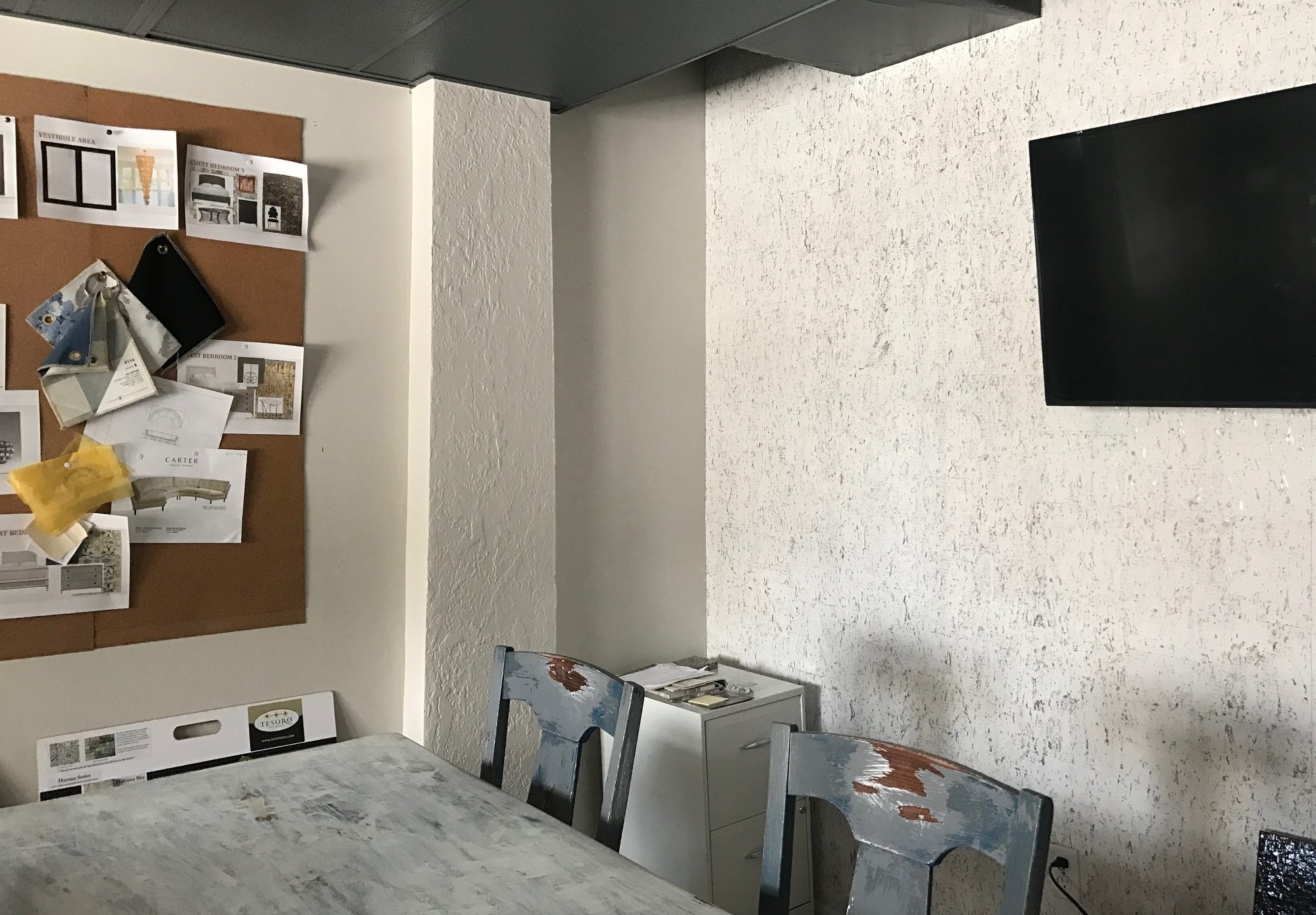 Another great option is wallpaper with a painted scene in a color palette complementary to the design scheme of the room.
Tip: Reserve a bold or busy wallpaper pattern for the wall you want to serve as a focal point. Plastering all four walls with something larger than life will make your room seem smaller than ever.
Organic Textures Make the Space Feel Natural
The great outdoors is full of textures that provide visual interest, beauty, and unique landscapes. Stroll down the beach in Cocoa, Florida and you'll feel the sand grains between your toes and admire the patterned texture of a shell.
If you head into the forest, you'll be surrounded by the rough bark of trees, the crunch of leaves beneath your feet, and the feather-soft texture of ferns.
The point is that nature's textures are simple but inviting. If you're looking to incorporate natural elements into your interior design, you need to take a cue from how it's done outside.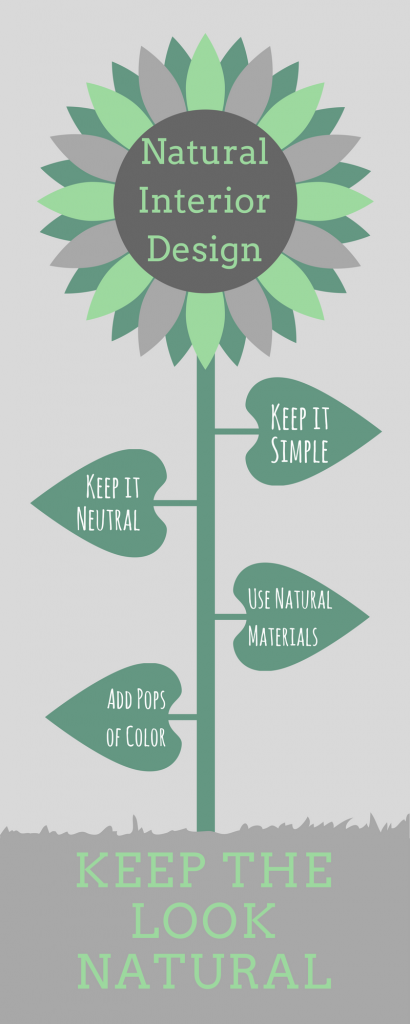 Tips:
Keep it simple.
Keep it neutral.
Add pops of color to draw attention to key pieces.
Choose natural materials. Like sheepskin and jute rugs, leather chairs, and basket-weave lampshades.
Make Your Space Feel Natural
The important thing when designing with the outdoors in mind, or with any other look as your end-goal, is to make the space feel like somewhere YOU want to spend your time.
It should be comfortable and inviting – just like your favorite outdoor destination. Whether it's the beach, woods, or a park, it's ready and waiting to be your gateway to calm and relaxation.
Your home should do the same. So don't be afraid to share with your interior designer how you want to use the space, what features you'd like to play up, and which textures or color palettes you're most drawn to.
In the end, you'll have a look that is simple and beautiful – a nod to the beauty and elegance that happens so easily in nature.