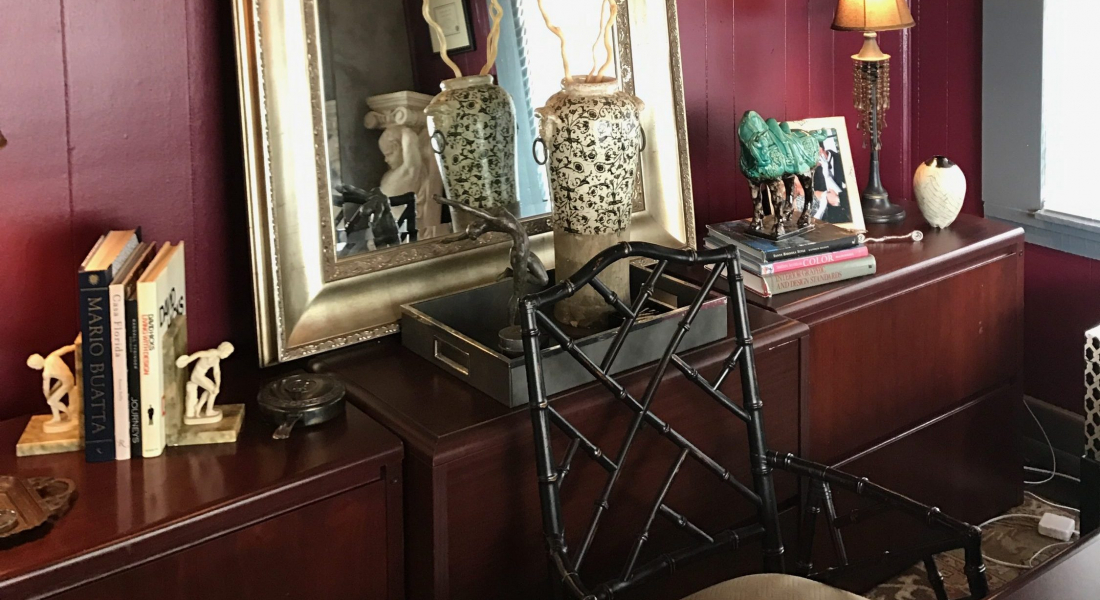 From the Desk of Our Designers – A Chat With Michael
They say you can tell a lot about a person by their desk. What they chose to decorate with, how organized it is, the number of paper stacks to be found on it, and more. We say, "You can tell even more about a person by chatting with them at their desk!"
We had a moment to catch up with our interior designer Michael Gainey in his studio located in Cocoa Village and we began by taking a look at his desk. But of course we covered design inspiration, his personal go-to room at home, and highlights of interior design projects from 2017.
What is your favorite object on your desk right now?
MG: Well, other than a client paycheck, I would say that it's a set of 3 lacquered Japanese boxes. They're vintage and add an Asian element to the room. For my personal space, I like adding a Far East influence to more traditional design components.
Next to the boxes, I keep a portrait of my wife Clara and me. A portrait personalizes a space, the right accessories make it classy.
So on a day at home, which room in your house do you love to spend the most time in?
MG: The family room. It has my cozy reading corner.
A cozy reading corner! Sounds inviting. What is in your personal space there?
MG: I have a comfortable sitting chair paired with an ottoman, a side table, plus a lamp and window for lighting.
What's your advice to someone that wants a fresh look in their home but doesn't know where to start gathering inspiration? 
MG: Definitely check out Houzz.com, it's like an electronic interior design magazine. Instead of tearing out magazine pages and collecting stacks of looks you love, you can create a digital "lookbook." It's easy to keep track of common elements you like, and to share these ideas with your interior designer.
Sometimes it starts to get overwhelming when putting ideas together, what do you recommend that a client look for?
MG: Look for consistencies across images you save. Whether its natural wood elements, a leaning towards traditional elements, or a penchant for clean lines and modern design, pick out the features that seem to show up again and again.
I recommend that you research and even more importantly DREAM. People don't dream enough about what their home could look like!
Very true. So when you're dreaming of fresh new looks, which aspect of Florida interior design most often pops up?
MG: I love weathered wicker with a little paint peel for character. It's a look that is quintessentially Floridian.
I also think the juxtaposition of textures found in Florida design is a great play to add visual interest to a room. Rug textiles against a hardwood floor or ceramic tile are a great way to soften a room. You also find lots of shell elements and driftwood offset by softer, casual looks. It just really speaks to the environment of Florida – the fabulous juxtaposition of sea and sky, ocean and land.
Do you have a favorite piece from a project you've done this past year that you could share with us?
MG: Yes, for Pamper Me – a chic new nail salon opening in Cocoa Beach – we re-upholstered two vintage French couture chairs. The inspiration was Audrey Hepburn's gown in Sabrina.
They really add vintage class to the space and are a one-of-a-kind piece that the client loves.
Thanks Michael for sharing a little insight into the makings and musings of life behind your design desk!