Interior Design Profile: Contemporary Design
Some spaces strike the perfect balance of elegance and comfort. They're artistic, but not overwhelmed with color. They feel clean and minimal, but not barren and stark. If you are looking for a room that fits this description, contemporary interior design may be the style for you!
What is Contemporary Interior Design?
Contemporary interior design is full of sophistication without being stuffy or overly formal. It is artsy without getting too wild, and modern without being too cold. These rooms can often be described as a mix of modern, art-deco, and a little of the 1970s.
However, it is also a trendy design that involves much of what is in style at any given moment, making contemporary an ever-shifting style. Think clean, minimalistic, and artsy with a mix of neutral and bold color palettes. It is simple, yet bold, and full of purposeful lines with an emphasis on architectural features. As a result, contemporary rooms can easily be updated or changed with a few well-chosen tweaks, making it a timeless style.
Key Features of Contemporary Interior Design
Though other interior design styles have influenced contemporary design, this style still has its own unique features that set it apart from other designs. By incorporating these mainstays, you can create a distinctly contemporary space while still allowing its fluid changes and divergences, creating your own unique atmosphere. Let's look at the key elements that make up this sophisticated, artsy style.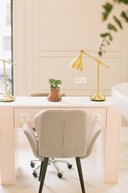 Furnishing Shape and Style
Contemporary furnishings boast clean-cut, simple lines. Bare and minimal is the name of the game here. Furnishings are stripped down to the basic components, focusing on the structural aspects.
Pieces such as chairs, couches, and ottomans feature exposed legs without any unnecessary ruffles, fringes, or skirts. Solid colors are often seen without any extra fuss or patterns. Think simple, clean, and minimal with a focus on the structure of the furnishing.
Material Types
Natural materials such as wool, cotton, linen, and jute are used sparingly to add texture and interest and are often found on items like pillows, rugs, or throws. Stone also adds natural texture to countertops or tabletops. Glass and metal contribute to the clean, fresh feeling in contemporary design and often are used for sculptures, picture frames, or light fixtures.
Lines
Think sleek, straight, and purposeful. There are no frills or carved details here. Every line used in contemporary style serves a purpose and often leads the eye to an area of interest. Structural shapes that are often hidden away in other styles are welcomed as added character in contemporary design. Exposed ductwork or piping works well with the minimalistic, bold feeling of the contemporary style.
Such structural pieces are used as bold elements of the room, flattering these structural pieces as both a useful part of the home and an integral piece to the aesthetic. Ducts or pipes may be painted bold colors to act as accents. On the other hand, these structures may be given a neutral coat of paint, allowing the shape and lines of these structures to be the main focus. Either way, they are celebrated as a part of the character in any given room.
Patterns
Patterns are used very sparingly in contemporary design. When they do appear, bold yet simple patterns dominate and are generally limited to two colors, such as zebra print or stripes. Geometric patterns are also a staple in contemporary design and play well with the clean lines of the furnishings. Florals or other intricate patterns clash with the clean-cut feel of the space.
Along with well-chosen patterns, contemporary artwork and sculptures create key focal points in the room. Here is where you see the art-deco influence start to shine with conversation-starting pieces and bold focal points. However, these decor elements and focal pieces are used sparingly and with purpose, making each addition meaningful. This creates a sophisticated, timeless atmosphere.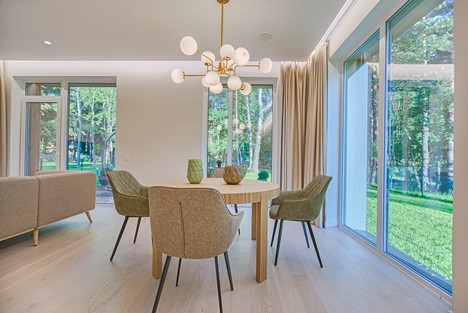 Common Color Palettes
Neutrals are used for much of the design in a contemporary room. Such shades as white, gray, black, tan, beige, or brown are usually used as the foundation colors. Bold colored accents are added to pop against the neutral room. Again, these accents are used sparingly to keep the clean, purposeful, sophisticated feeling of the room.
As an example, one sitting chair may be a bold blue while the other furnishings in the room feature a subtle shade, like gray. A sculpture may be highlighted in the same blue color. For those with a bigger taste for color, painting an entire accent wall a bold color will add a louder burst of color. In this case, furnishings and most other accents would remain neutral.
How to Achieve This Look in Your Home
Achieving this interior design style in your own home is a breeze if you keep a few key elements in mind.
• Keep furnishings simple and clean. No ruffles, frills, or tassels. Furnishings should focus on the structure of the piece with leading lines and minimalistic design.
• Natural materials such as cotton, linen, jute, wool, and stone are added sparingly for a dash of texture and visual interest. Glass and metal are often used in sculptures, picture frames, and light fixtures to enhance the clean, sophisticated feeling of the room.
• Lines are clean and purposeful, often used to direct the eye to focal points in the room. Architectural pieces such as exposed pipes or ductwork are celebrated as added character.
• Patterns are used sparingly and with intention. Avoid intricate, loud patterns that will disrupt the flowing, minimal feel of a contemporary room. Use bold yet simple designs, leaning towards two-toned patterns such as zebra-print, stripes, or geometric patterns.
• Neutral colors reign in contemporary design, making up much of the space. A bold, bright color is often chosen for well-placed accents in the room. A mostly neutral palette allows these accents to grab your attention without being overwhelming or cluttered.
Keeping these tips and tricks in mind will allow you to give any room a fresh start by incorporating contemporary design into your home! If you are looking for the perfect furnishings, paint colors, and layouts for your home, hiring an interior designer is a great place to start. Their professional input and design skills will no doubt allow you to create the contemporary space you've always dreamed of!