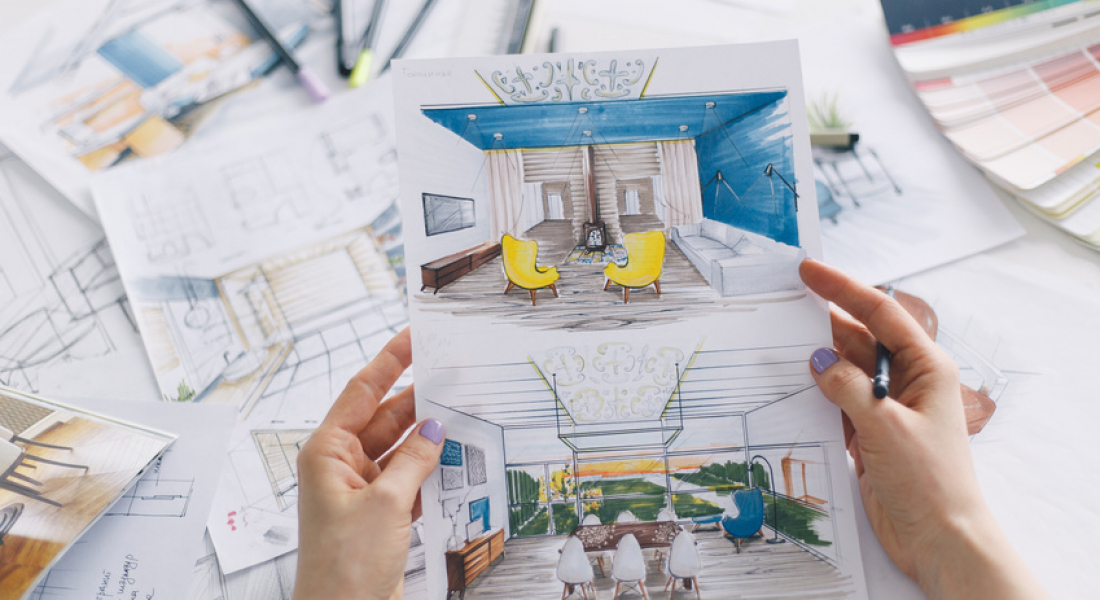 Interior Design Trends for 2019: What's New on the Scene
A fresh calendar year often brings fresh style to home interiors, so we're eager to see what the interior design trends for 2019 will be. While the change to interior design trends tends to happen gradually – early indicators of this year's biggest looks point to some big changes in home décor.
Our Melbourne, Florida interior design studio is always keen to keep a pulse on changing interior design trends without losing our grasp on classic design principles. There are fresh, innovative ways to combine the biggest interior design trends for 2019 with a look that can stay classy for years to come. So here are 3 of the latest interior design trends that bring something fresh to the table when compared with last year's popular looks for home.
Interior Design Trend for 2019: The Memphis Movement
This interior design trend has little to do with Memphis, Tennessee and everything to do with eye-catching color and innovative shapes and lines. Born from a group of Milan-based interior designers in the early 1980's, the Memphis Movement is having a moment again in 2019.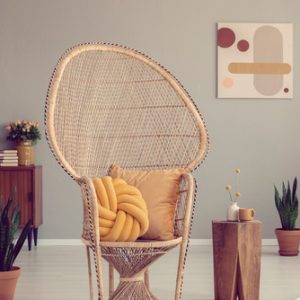 The Memphis Movement was responsible for many elements of 1980's design, including the combination of primary color palettes and free-form lines and shapes. But don't fear that the resurgence of the Memphis Movement means that houses will be looking like the set of a 1985 romantic comedy.
Instead, this interior design trend for 2019 is bringing an element of personality and fun to interiors that has been in the background since neutrals and natural materials stole the show a few years ago. Use this up-and-coming trend as the creative license you need to put a little more color into your room or opt for curvy club chairs and sofas that are comfortable yet stylish.
Interior Design Trend for 2019: Maximalism
The big brother to minimalism is returning in a big way, with larger-than-life décor starring in interior decorating magazines and latest looks from around the industry. While the interior design trends of the past few years emphasized muted artwork and low lines on simple furnishings, the trend towards maximalism is bringing a new meaning to eye-catching.
Specifically, maximalist art is taking center stage with supersized paintings, portraits, or photographs covering entire walls. We often talk about the importance of a focal piece, and maximalism embraces this concept.
Our advice for incorporating this interior design trend is to pick pieces you love – since they'll be hard to miss and often represent a significant investment in your home's decor.
Interior Design Trend for 2019: Bold Bathrooms
The go-to color palette for serene spa-like bathrooms is shifting to the dark side. Instead of the clean (almost sterile) neutral bathrooms we've been seeing for the last few years, the latest trend has bathrooms becoming more bold and beautiful, with heavily saturated hues making a statement. In fact, black bathrooms are a top interior design for 2019.
If you thought that subway tile and cararra marble were the only ways to achieve a spa-worthy bathroom, then you'll be pleasantly surprised by some of the swoon-worthy spaces we're seeing in ebony en suites and plum powder rooms.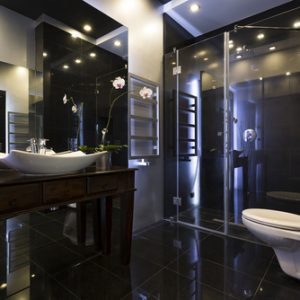 If you're not ready to go all in on a dark bathroom, try swapping out bright accents with darker-hued counterparts to add a sense of richness to the space. Mirrors, fixtures, and even soft goods like towels, can be swapped with richer materials for a luxe feel.
To Trend or Not to Trend?
Are you trying to decide if you should go all in with an up-and-coming 2019 interior design trend? It can be hard to toe the line between being on-trend or being a prisoner to fads.
At our Melbourne, Florida interior design studio we can sort through the latest and greatest in design to find looks you love that will work for the long-term in your home.