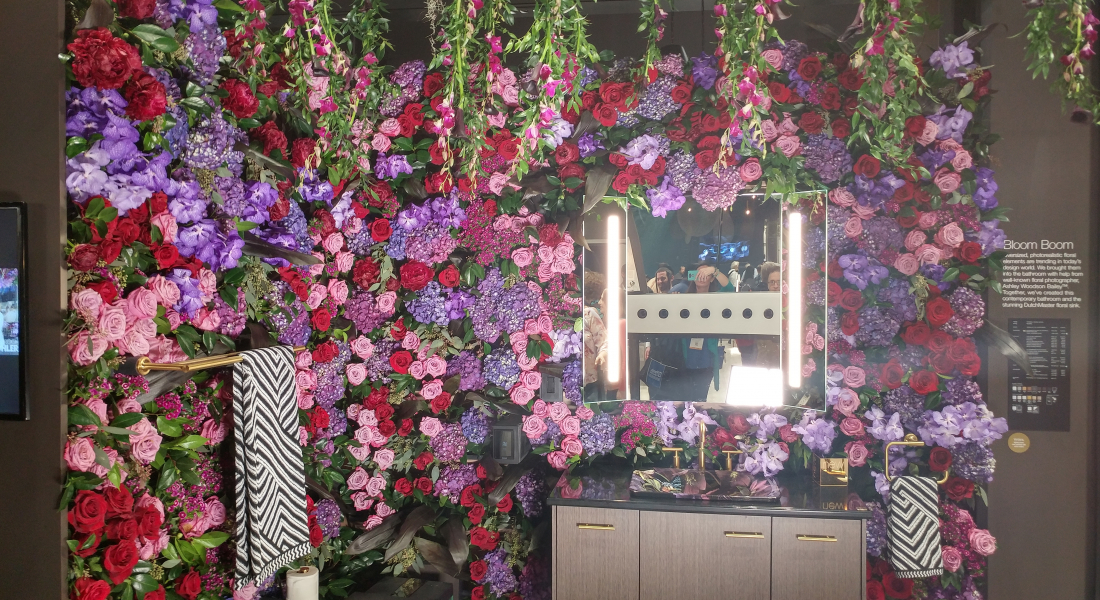 Keeping Up with Kitchen and Bathroom Design Trends at the KBIS Show
The kitchen is often referred to as the heart of a home, and the bathroom is a vital space that can't be overlooked. Making the finishes, fixtures, and features of these rooms match your home's interior design is an important part of creating a cohesive look.
As trends change and new looks rise to the top, the kitchen and bath industry keeps pace by offering fresh finishes, fixtures and more. One of the most popular places to showcase the latest looks in kitchen and bathroom design trends is at the Kitchen & Bath Industry Show (KBIS), held this year in Orlando.
Here are some of our favorite looks and ideas from the show!
Floral Finishes Add a Fun Touch
Sinks are largely utilitarian in purpose. We brush our teeth and wash our hands over these simple basins. But there is no reason to settle for standard white porcelain.
Kohler now offers a collection of ebony black sinks accented with beautiful painted florals that add an unexpected touch of color to hand-washing.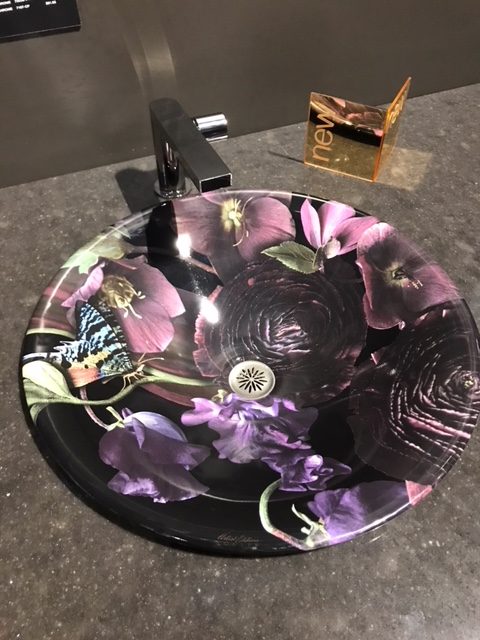 These sinks are part of Kohler's brand-new Dutchmaster collection, produced in collaboration with artist-photographer Ashley Woodson Bailey. The flowers, lighting, and contrast all are intended to capture the movement and beauty of the natural world – right within your bathroom sink!
Kohler describes this fresh take on bathroom design by saying, "Bold floral patterns reside in fashion, textiles, and prints, but Kohler's innovative and creative nature takes bold floral to a new level through this audacious visual within the unexpected context of a bathroom sink."
Adding to the attraction of this new sink line was the beautiful live floral wall. Seeing the flowers juxtaposed with the sinks and hardware really imparted the sense of elegance that florals that bring to any space – including the bathroom.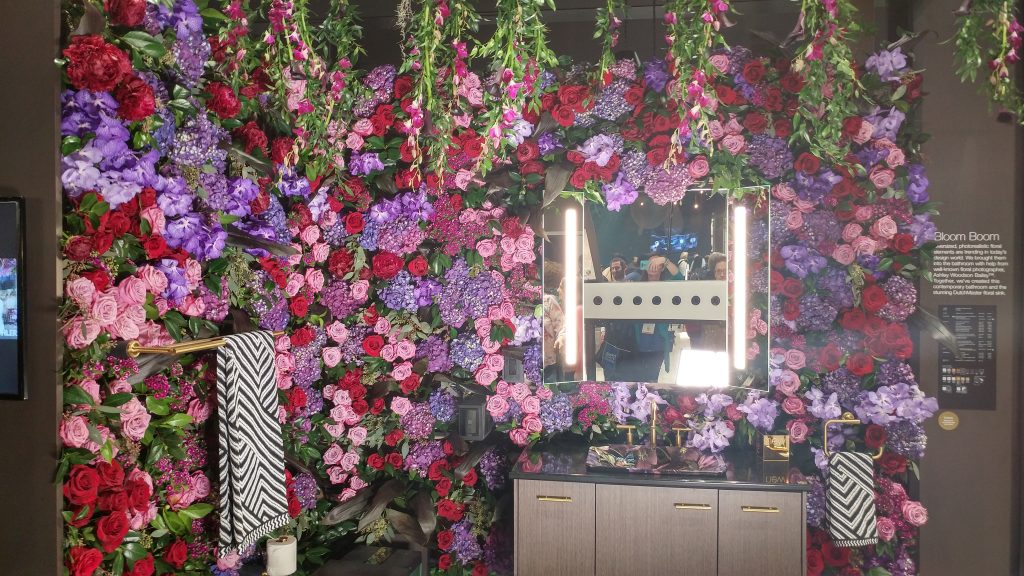 What do you think – would you consider a floral-accented sink for your powder room?
Organic Materials and Natural Surfaces Make Waves in Bathroom Design
A return to the simple, pure, and clean aesthetics of natural materials has made wood, natural stone, and even concrete rise in popularity for both kitchen and bath materials.
This was evident in many of the product lines on display at KBSI, including this gorgeous teak soaking tub.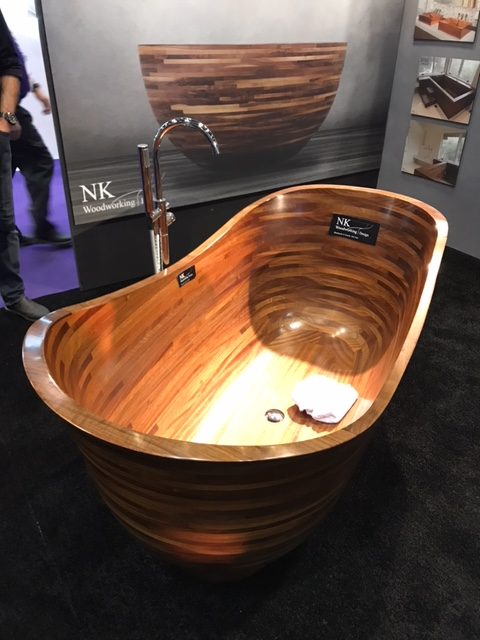 This tub is equally functional and beautiful. It makes a show-stopping centerpiece for an en suite master bath. The rich wood and natural variety in hues mean it will look elegant in just about any décor scheme.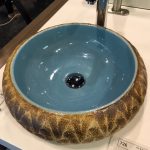 Natural surfaces were also on display, with vessel sinks like this making a style statement. We love the trend towards colorful sinks, and this one is offset by the patterned, stone-like exterior of the bowl. The glossy ceramic interior and the more natural, textured exterior pair nicely for a look that is easy to work with.
Make Way for Modern
One thing that our designers noted at KBSI is that kitchen and bath trends are featuring very little classic design, if any at all.
As Michael Gainey put it, "Modern is the mode of the day and gray is here to stay!"
What does this mean for you when making selections for your kitchen or bath? Choose solid surface counters with lighter creams and grey.
When it comes to natural materials, the reigning woods are exotic with lots of pronounced grain.
And when selecting a vanity, look for a floating cabinet or choose one with legs. It will give your bathroom a finished-feel that is fresh and current. We want to avoid stodgy old cabinets that look like they belong Granny's pink bathroom from 1968.
Ready for a Kitchen and Bath Design Session?
If you're reading this and flashes of your dated, dilapidated, or dreary bathroom and kitchen keep flashing into your mind – it's time to make a change.
But don't start a bathroom or kitchen remodel project without first consulting an interior designer. There are important considerations that have to be made from both a functional and aesthetic standpoint, and an interior designer can help.
Make the heart of your home beat again with a fresh new look for your kitchen or bath!