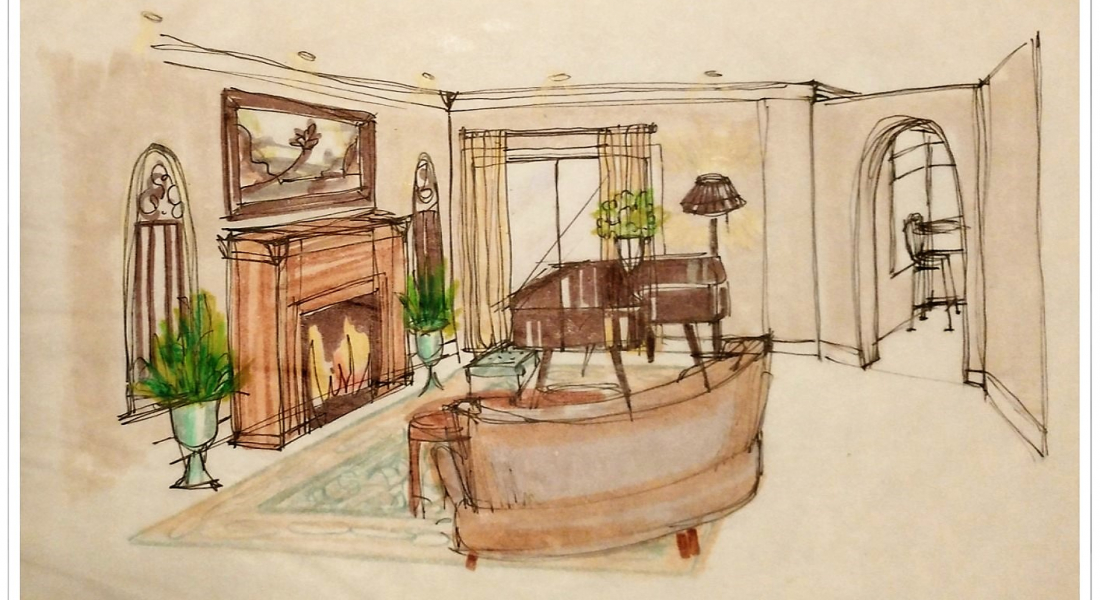 Spotlight Interview: Victoria, A New Interior Designer for MGSD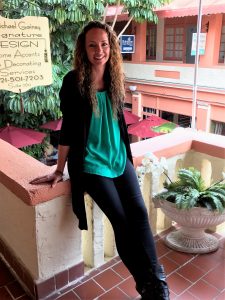 The only thing constant is change – and for our team at Michael Gainey Signature Designs, we're excited about all the changes we've experienced in recent months. As you may have read about, we have a new studio, new projects in the works, and many more exciting developments we're looking forward to sharing with you in coming weeks. But we also have a new interior designer that has joined us – the talented Victoria Bellucci-Kellam.
Victoria took a few minutes to share with us her background, experience, and interests. You'll be eager to learn more about her design influences and see samples of her beautiful hand renderings.
Are you a native Floridian or one of the many 'transplants' to the Sunshine State?
Native! I was born in Miami in (an undisclosed year), and we lived in south Florida until I was 5. Then we moved to beautiful Melbourne Beach, and I have been here ever since. I really thought I wanted to be in a big city when I was younger, but now I am very grateful for the lack of hustle and bustle! I love the laid-back island life!
We agree! Brevard's "easy breezy" beach style is one of our favorite sources of design inspiration here at MGSD.
What is your favorite source of design inspiration?
Definitely nature. It might be from growing up so close to the water, but it seems like the designs that are derived from a natural concept are always the ones I am most passionate about. Occasionally, I will find inspiration from something random when I'm not looking for it, like a vintage thrift store find, or some funky artwork. I am also really inspired by color and texture. I could probably go on and on with this answer so I will stop here!
We understand – we seem to see inspiration everywhere we look.
What influences or decisions led you to pursue a career of interior design?
My mom has always been super creative and artistic, as well as my grandmother, so I know that played a major role in harboring my creative ju-ju. My dad ran a landscape design company when I was very young, and I can remember being very interested in reading the blue prints and using the drafting tools. I always kind of thought I would do something artistic, but was never really sure what exactly that would be. I love that every job and every client is different, and the world of design is ever-evolving which keeps 'work' (if you can all it that) interesting day after day.
What is your background and education in the field?
I currently have an Associates of Science degree in Interior Design Technology, and I am a certified Kitchen and Bath Design Specialist, as well as a certified Home Staging Specialist. I have experience working with commercial, hospitality, healthcare, and residential design. During college, I was also able to take an internship with the Interior Design Department at Embraer Luxury Jets, which was really fun and very different. I would like to eventually pursue additional education in the design field, and maybe look into more specialized education in areas like GREEN design, and outdoor living spaces.
Your versatile background has certainly been an asset here at MGSD, as you've been able to assist our clients in a wide variety of settings.
We hear you produce some beautiful sketches by hand. Do you have any samples you can share with us?
Thank you! I would love to share some of them!
Wow! These are works of art – what a way to document the transformation a home takes when being redesigned.
Is there a particular look or trend that you are most excited to see in home decor this year?
I am really loving the use of mixed metals right now. I am dying to do a kitchen with an oversized oxidized copper hood, where it gets that sea-foam green and rusty turquoise color. I like a lot of the bohemian bordering on hippy trends right now too, like macramé and indoor plants.
Although it is not a new trend, I think salvaging and re-purposing building materials is going to be something that is here to stay for a while. I think we have all become more aware of ways that we can be kind to our environment, and this is one of them.
We agree – we have been seeing a lot of curated looks and we love that they can be uniquely styled to fit each home's personality.

Any special interests or hobbies you have? What do you enjoy doing in your free time away from fabric samples and fixture catalogues?
I have a million! Painting, drawing, gardening, reading, music, decorating, planning parties, cooking, etc. etc. etc.! My favorite thing to do though is spend time with my family. I have an incredible husband who I just adore, and the most amazing 3-year-old son who is my entire world. We love having our families over for weekend barbeques and on holidays, so there is seldom a dull moment! I wouldn't want to change any of it!
Thanks so much for sharing a glimpse into your background and interests. As a team, we definitely appreciate your creative contributions and the passion with which you approach each project, and our clients do too!