4 Ways to Be the Best Design Client Ever – and See the Best Results
The first meeting between you and your interior designer is exciting – and you both hope for the best possible outcome. What can assist in making the first meeting, and the whole process, a breeze? As central Florida interior designers with more than 30 years of experience, we're happy to say that we've made many wonderful friends here in Brevard County and beyond. We are thankful for our great clients and proud of the homes we've helped to create.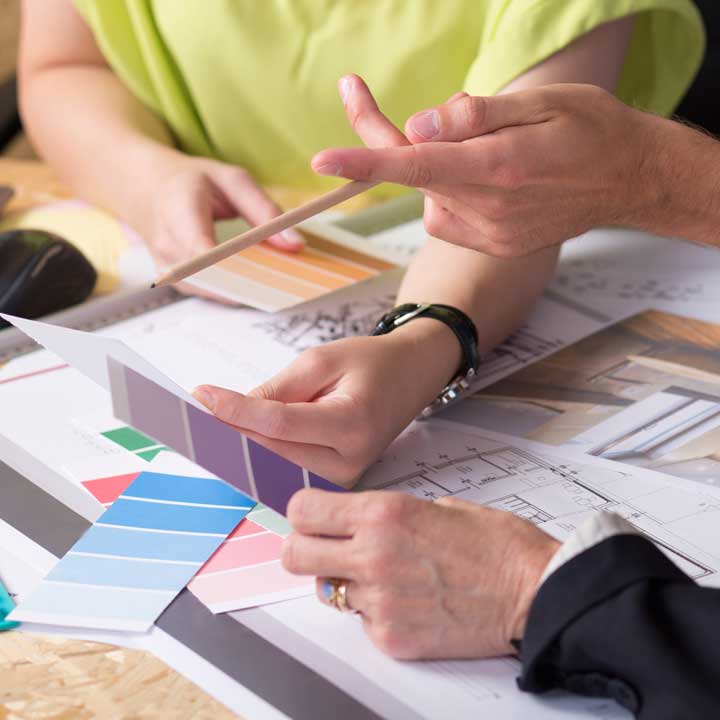 Along the way, we've learned some tips and tricks that have made the design process easier on our clients – which leads to even more satisfaction with the end result. If you're new to the design process, we'd like to share these tips to help shape your expectations for the process and help things get off to a smooth start!
Work with your designer from the beginning to the end, whenever possible.
Think of it like a fabulous story – you don't give someone the second half of a great book and expect them to understand the plot, the complexity and nuances of the characters, and the satisfying twist at the end. Following a storyline from the beginning provides context.
Similarly, seeking interior design advice from the outset of your project allows us to understand the 'plot' you are looking to create with your home's style, the complexities and nuances you want to explore, and any dramatic twists you want to incorporate. We can help you to bring the story to life – so let us help you write it from the very beginning!
Trust us.
You decided to involve an interior designer in your project for a variety of reasons – all of them very valid. You probably wanted expert advice, superior results, and access to the best and most unique furnishings that truly fit your home and your style. So don't sell yourself short on reaping the benefits by second-guessing the advice or resisting our professional opinions. If you have questions, feel free to ask; but remember that you came to us for the best results – and we'll deliver.
It's like standing at the edge of a diving platform. Once you take that leap, you're all in. The experience of falling toward the water is exhilarating, perhaps even a little nerve-wracking, but also very liberating. Invest in your home's design by taking that leap. Once you have our team working on your interior design scheme, you may feel exhilarated, even a little uncertain at times, but the end result will be liberating. You'll have a home that will exceed your imagination and will definitely make a splash in the neighborhood.
Give us time to process. Though we eat, sleep, and breathe interior design, we do need time to formulate the best possible plan for your design question. Not all backsplashes are created equal, and not all design challenges are solved the same way. If you don't receive an answer from us immediately, don't panic. While you'll always receive an acknowledgement, you may not get an instant answer. And really, when you are seeking a custom interior design solution, would you really want an instant solution? Custom takes time, but the results are long-lasting.
On a related note, bear in mind that interior design is a linear process. To provide you with a cohesive look, we have to move through the sequence in a logical way. Major elements have to be decided upon first, then we can move on to supporting pieces, then the finer details. Remember, everything in your home needs to speak to another piece. Jumping around in the process is a sure way to guarantee that key aspects get left out of the conversation, so to speak. And who wants to see a lonely retro light feeling out of place in a sleek, modern kitchen? Certainly not you, and definitely not your designer!
Use your buying power wisely. Spending your design dollars on a living room set you fell in love with at Ethan Allen is definitely going to give your designer anxiety. Furnishings of key significance in a home are the ones that you should talk with your designer about purchasing. As an interior designer, we have access to thousands of pieces that you won't find on a showroom floor – and that might be an even better answer to filling your space and fitting your style.
At the same time, don't be afraid to exercise some independent judgment. Do you really like brushed nickel hardware? Then go ahead and buy it at your local home improvement store. Don't feel like you need to seek your designer's approval on every minute detail of your home – after all, you're the one who will be living there! Save your questions, your time, and your budget for the aspects of your interior design that will really make an impact. Have fun with the rest.
In conclusion, we want to say thank you to all of our clients throughout the years who have been truly the best design clients we could ask for. And to those of you contemplating working with an interior designer, take note of these four 'insider' tips to get the most of your design experience!
If you do, you will be in the running for the title of 'Greatest Design Client of All Time' – but more importantly, you'll be rewarded with a stress-free, simple way to achieve your design aspirations and experience your dream home.