5 Tile Trends to Try in 2022
For many years, white subway tiles have dominated tile design for their clean lines, neutral color, and sleek, upscale appearance. While the subway tile has its place, tile trends of 2022 are treading into new territory, adding opportunities for unique flair that white subway tiles may not offer. Let's take a look at where the newest tile trends are heading, and how you can incorporate them into your home.
1. Color
For many years, white and neutral colors have dominated the tile world, but 2022 aims to shatter the mold. Muted earthy tones, such as the color of the year's soft green hues, are very popular. For a bigger statement, bold, bright, and rich colors such as rust or turquoise are also used. Whether the color calms the space or spices it up, colored tiles of all sorts are a hit in new tile design trends.
2. Texture
Tiles on their own add a layer of texture and dimension to a room, but 2022 tile trends aim to push it further with textured tiles. These add a whole new layer to a space, giving intense visual interest and creating a truly unique experience for the eyes. Some tiles are purposely textured and grooved to resemble other natural materials, such as wood. Rougher architectural materials such as travertine or handmade ceramic tiles are also perfect examples of textured tiles. Deeply pitted travertine can give the space intense depth and texture while handmade tiles offer a more subtle wave and imperfection in their shape. Whatever degree of texture you are drawn to, textural tiles can give a cozy, perfectly imperfect vibe to a sometimes cold design element.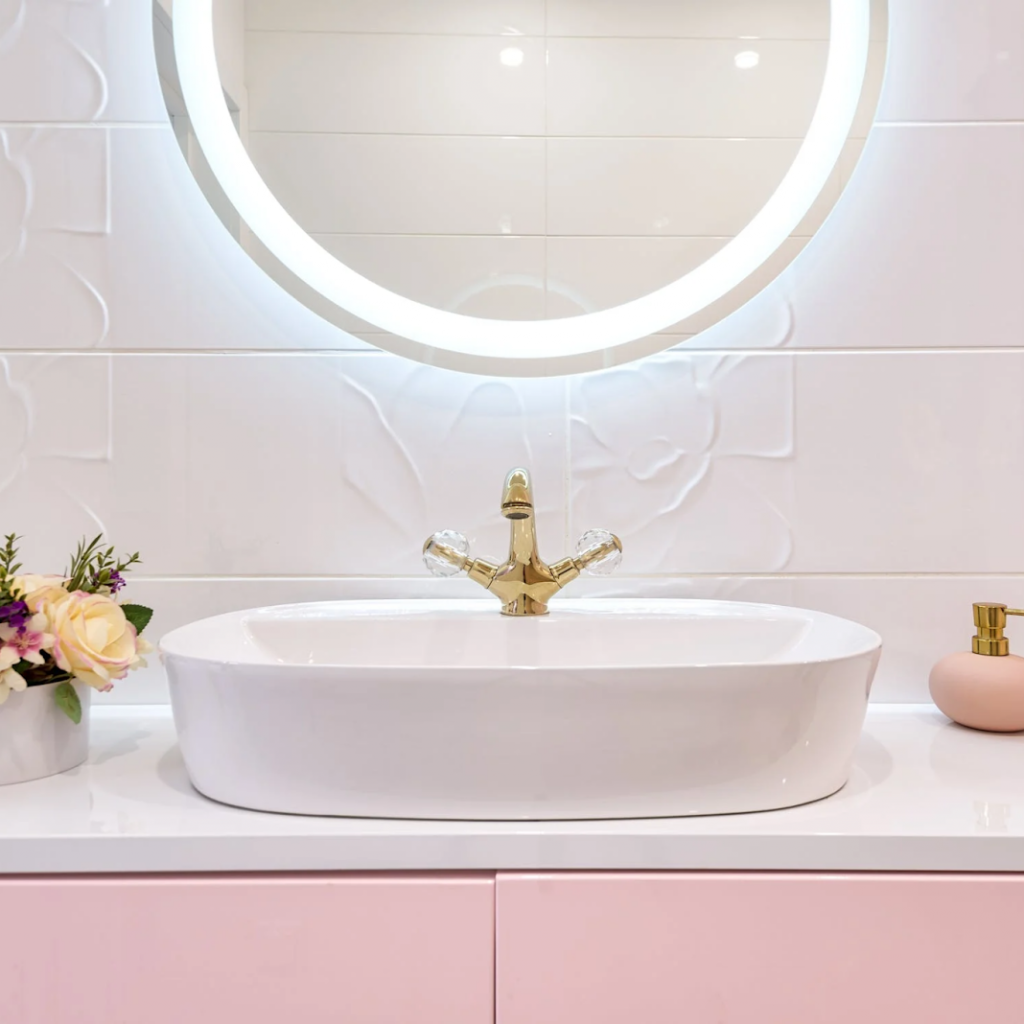 3. Shape
Just as plain white tiles are moving away from the limelight, so is the predictable rectangular shape of subway tiles. Even the simple act of turning subway tiles on their head for a vertical pattern spices up these ever-popular tiles, bringing them to the new year of new trends. But designers are getting bolder with their shapes, opting to use thin tiles, square, triangle, round, hexagon, or a mix of more than one shape in a single space. Whether you are bold enough to go for fish scale tiles or looking for a more subtle flair, like vertical subway tiles, playing with the shape of your tiles can add another layer of personality to a space.
4. Sheen
Another element used to add character to a tile design is the sheen of the tile. Glossy tiles keep things clean and shiny, while matte tiles can give a space a calmer, sophisticated feel. Rough materials can add an industrial flair, while the inconsistencies of hand-glazed tiles add an artistic, human touch. Another popular option is opalescent tiling, which can add a three-dimensional, upscale air to any space.
5. Pattern
Bold tile designs don't stop at colors, sheens, or shapes. Tiles adorned with patterns are a perfect item for adding eye-catching detail to a room. Popular new patterns include floral designs and tiles with a wallpaper-like appeal. With patterns that continue through each tile, wallpaper-like tiles let you add pops of color and unique patterns where wallpaper may not be the best option due to water or heat.
Patterns within the room itself can add another meaning to 'patterned tiles'. Make your tiles pop by continuing the tile from the floor up the wall, creating a unique accent wall. Covering items in tile, such as kitchen islands or bathroom vanities, is another popular trend when it comes to creating unique patterns within a room.
Break the Traditional with a New Tile Trend
While the neutral shades and simple shapes of past tile trends still have their place, 2022 tile trends embrace a more playful, bold approach to tile design. With unique colors, shapes, sheens, and patterns, these new tile trends offer options to fit in any space and any style. Whether you like a clean look or a bold, eye-catching statement piece, there is a tile trend that is right for you and your space.