A Tale of Two Styles: Minimalism vs. Maximalism
Over the past decade, minimalism and maximalism have taken a front row in the interior design world. You may have a mental picture of what each design style is like, but do you know what makes these styles stand out? What defines these interior design trends—and can they be defined at all? Learn more about the differences and surprising similarities of minimalism and maximalism. 

Features of Minimalism Vs. Maximalism
As suggested by their names alone, minimalism and maximalism are almost completely opposite in style. Minimalism embodies the concept 'less is more', while maximalism is big, bold, and full of life, color, texture, and accents.
Minimalism is marked by orderliness, clean lines, calm colors, and simple, practical, functional pieces. Color palettes frequently chosen feature whites, creams, grays, blacks, and simple wood tones.
Furnishings are clean-lined and lack any extra ornamentation. The focus is put on functionality and practicality. Textures are used sparingly and with intention, such as a simple wood table or a single accent pillow. An overall feeling of peace, serenity, order, and simplicity rules the minimalist world.
Maximalism, on the other hand, focuses on adding a multitude of colors, textures, and objects that delight the senses with a feeling of luxury and abundance. It dances with chaos in a way that brings excitement and intrigue to a space. In maximalism, things are not perfectly placed or tucked away to reduce clutter. Rather, a plethora of objects are displayed, whether it is a meaningful memento from travels abroad, a gift, a random piece of art that speaks to you, or a plant you couldn't pass up. If it means something to you or you simply like the way it looks, maximalism design is all about displaying it.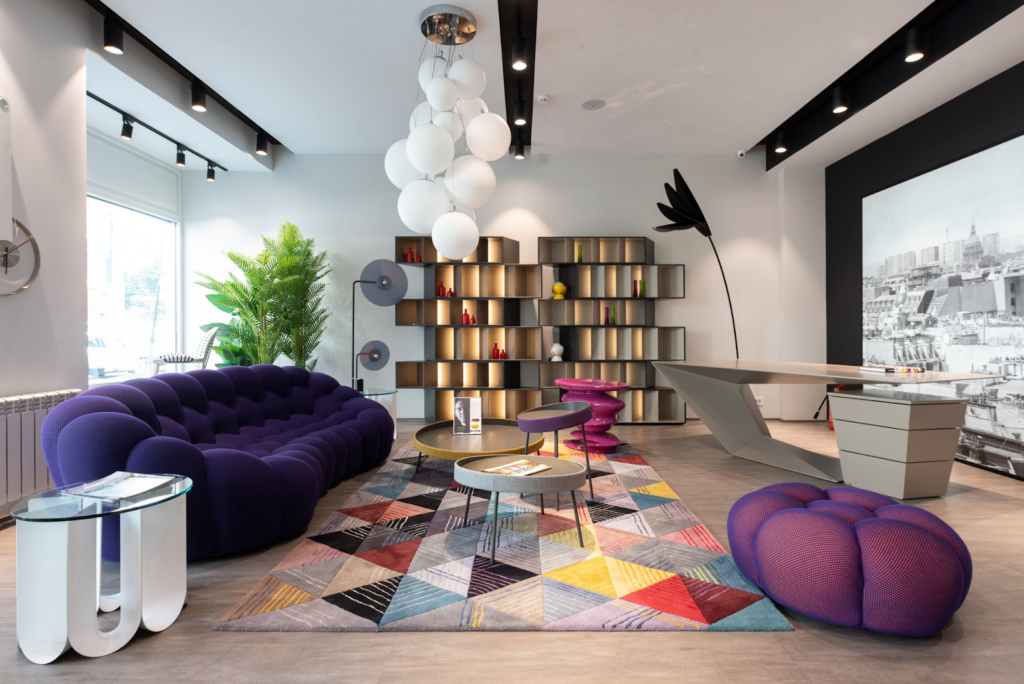 Mismatched items live side by side, but by incorporating the same types of items or textures, this chaotic mix lives in a kind of disorderly harmony. Color palettes are loud and bold, lines are curving and ornate, and furnishings feature intricate details, bright upholsteries, and varying textures.
Surprisingly Similar Features of Minimalism and Maximalism
Despite their obvious differences, minimalism and maximalism are more similar than they may appear at first. Though these design trends may seem to be on opposite ends of the interior design spectrum, minimalism and maximalism are united on a very important aspect: both styles are reaching for a specific objective in a space.
The ideals behind minimalism and maximalism run deeper than the aesthetics of a space. The intention of both design styles is to find a way to express the mode of living that makes a person the happiest. Minimalism focuses on simplicity to find peace of mind and order in life. Maximalism focuses on abundance to spark creativity and evoke a feeling of comfort, familiarity, and luxury. Whatever style speaks to you, the motive is the same: to bring comfort and happiness.
Minimalism and maximalism are also similar in that they both depart from the more typical, traditional way of decorating. Both interior design styles can be pinned down by key features but cannot be exactly defined, as each space is different and unique. One minimalist home may look very different from another, but the common denominator will be clean lines, calm colors, and a clutter-free space. The same holds true for maximalism. Though two maximalism spaces may look very different, the idea of evoking a feeling of abundance and creativity by filling a space with bold colors and a large array of interesting items remains the same. Neither design style sits neatly under a category of other defined design styles. Both break the mold of traditional style, forging a path all their own and creating a look that is unique to each space.
Are You Ready to Take Your Home to the Max?
Minimalism and maximalism have taken the interior design world by storm. While these two styles seem to be total opposites, they are more similar than they appear on the surface. The influence of these trends is widely felt and either look is a fresh, exciting choice for a home.
Whether you are drawn to the clutter-free, calm-colored spaces of minimalism or the colorful, vibrant, filled-to-the-brim spaces of maximalism, MGSD can help you achieve either style in any space with your own unique flair.