Bedroom Basics: What to Consider
Your bedroom is a place to rest, relax, and recharge. Though not many people see this cozy room, its layout, functionality, and style are extremely important, as they directly impact you, your daily routine, and your sleep. Here we will look at 6 key factors to consider when designing a bedroom.
Design Decisions for the Bedroom
1. Furnishings
When it comes to bedroom furnishings, the actual bed is a given. However, the other furnishings within the space can greatly impact the way the bedroom feels and functions. Every good bedroom includes a storage piece, such as a dresser, a nightstand, and possibly a chair.
When deciding on pieces, ask yourself what you want the piece to accomplish. When choosing a storage piece, take a look at what you wish to store in it and how much space in the room you have to dedicate to it. Would a dresser suffice, or would a larger armoire fit your needs better? Or when choosing a nightstand, is a drawer needed to store lotions or glasses? Or perhaps a place to keep your books? Thinking over your daily routines and the furnishing's intended use will help you choose the best pieces possible.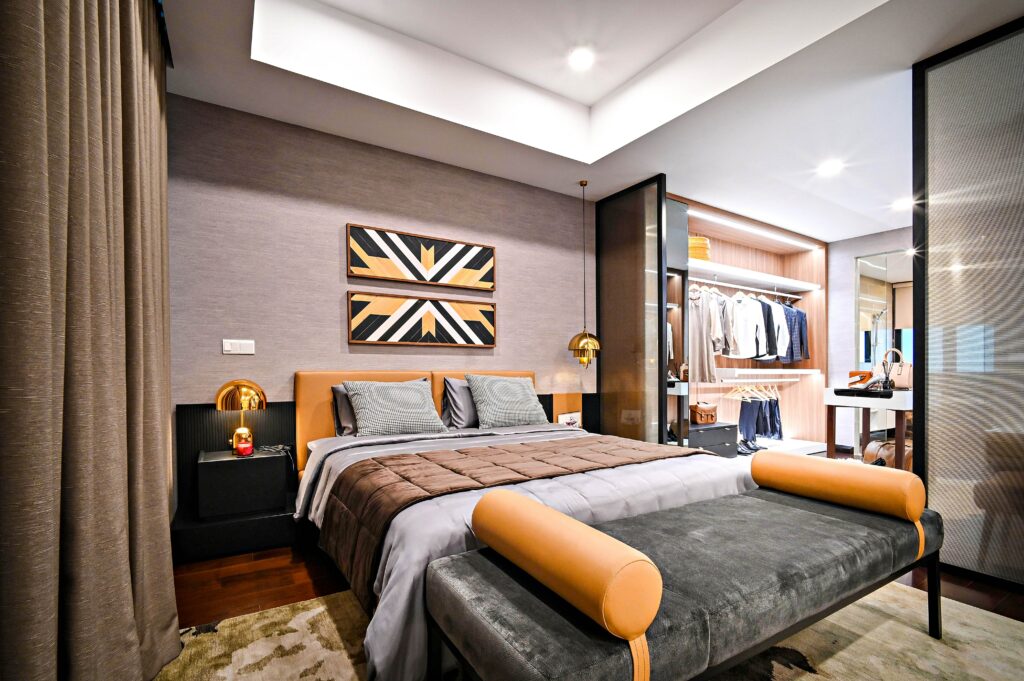 2. Room Layout
The layout of the room and the size of the furnishings within it are also important aspects. That armoire may look lovely, but it can be bulky and cumbersome in a small bedroom. Make sure the size of your furnishings suits the size of the room and give careful thought to how easily the space can be traversed. A bedroom should have free-flowing pathways that make it easy to access the bed, closet, doors, and furnishings. If you have to scoot around items on the daily, your bedroom won't be very friendly or inviting.
3. Connectivity
Going right along with room layout is the ease of connectivity in your bedroom. In other words, how easy is it to access adjacent rooms or spaces? Is the bathroom close by? And if you have an en suite, how easy is it to get to? Keep pathways to connected rooms free of obstacles or hindrances such as large furnishings or winding pathways that cross the entire room.
Another thing to consider is the type of rooms that are directly connected to the bedroom. Bathrooms and hallways are both convenient and private. On the other hand, if the bedroom door opens right into the living space or other public area, the bedroom can lack needed privacy.
4. Style
Perhaps more than any other room, your bedroom should be designed in a style that speaks to you, making you feel welcome and calm. This space is for you to retire at the end of the day, to feel at ease, and to be comfortable. Choose whatever style suits your taste.
Whatever style you choose, it is best to keep the color palette muted and calm. Because the main function of the bedroom is rest and sleep, the colors used should encourage a calming atmosphere. Try muted, soft colors, or tones known for promoting peace of mind, such as blue or green. Rich, deep tones, such as jewel purple, deep burgundy, or dark navy, can also be used to create a cozy, elegant feeling.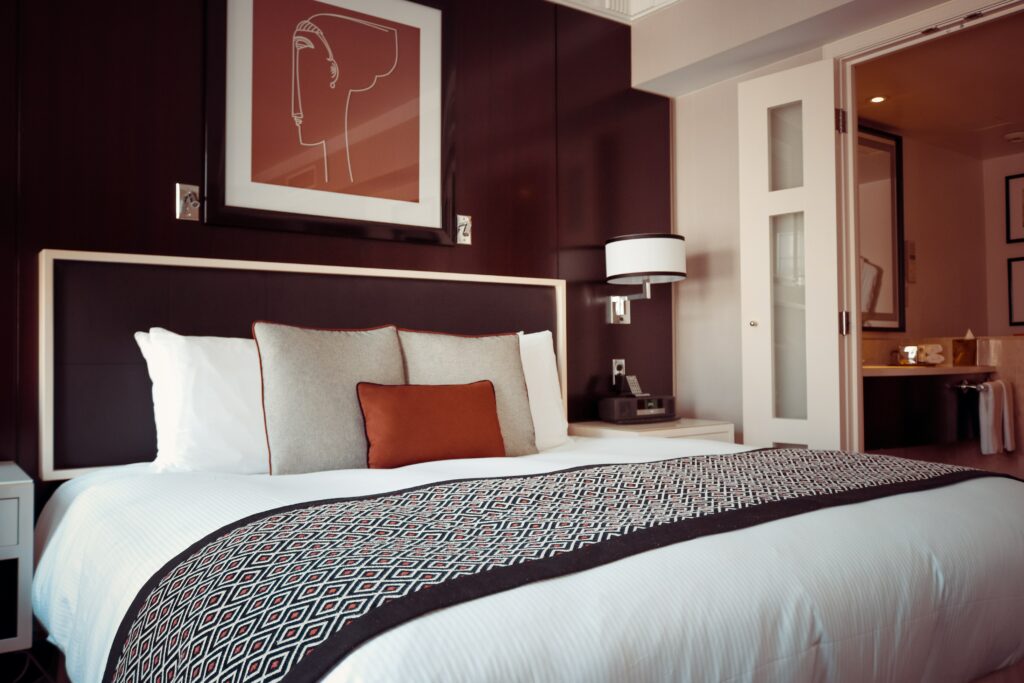 5. Storage
Storage was touched on briefly, but this aspect is extremely important in creating a well-designed bedroom. Bedrooms need plenty of storage for clothing, shoes, linens, and extra blankets. Making sure you have plenty of storage keeps the space feeling tidy and clean, rather than cramped or overflowing. This also allows you to keep unnecessary items stored out of sight, keeping the space simple and calm.
6. Lighting
Lighting affects the feel of a space just as much as colors do. Be sure to have good ambient lighting to properly light the whole space. Add small lamps, such as on the nightstand, for more focused lighting. These are great for reading or for creating softer light at night. Accent lighting, such as candles or decorative items with small lights, can add to the cozy, welcoming feeling of the room. Incorporate each kind of lighting to make your bedroom as functional and welcoming as possible.
Make Over Your Bedroom or Any Room with a Designer's Touch
A well-designed bedroom is functional, inviting, simple, and relaxing. It is a space designed for recharging and for getting a good night's sleep. By keeping these six things in mind when designing, you can create a space that meets both your needs and your wants.
Are you still wanting some pointers? Please feel free to contact us! Here at MGSD, we can help you create the perfect bedroom, from the layout to the colors. We would be happy to use our expertise to help you create a bedroom you love spending time in.