Behind the Scenes of the Bond Home: An Indian River Interior Design Project, Part I
Florida is the destination for year-round beach vibes or seasonal getaways. Our latest Indian River interior design project created a home that would give our clients a warm winter escape spot and a semi-retirement home to enjoy whenever the opportunity arises.
Background on the Project
The Bonds initially met with our Melbourne interior design team to discuss their needs and wants in their recently acquired home in Indian River. The clients are from a northern state with chilly winters and this home will give them a warm respite. They're approaching semi-retirement age, so their goal was to create a home that allows them to work when needed but offer plenty of ways to play as well. In addition, the home needed to be able to accommodate family visits and out-of-town guests.
The house itself was a 1960's jewel, just waiting for its chance to sparkle again. Situated on the Indian River canal, the natural surroundings and architecture of the home provided plenty of inspiration. However, there were some significant updates needed—including plumbing, electrical, and HVAC systems.
As it would turn out, this presented a prime opportunity to reconfigure the space from an interior design perspective. The concrete slab had to be chiseled, walls had to be opened up, plumbing had to be re-worked, and so the floor plan was ours for the re-imagining! The goal was to ensure that the new design reflected the clients' taste for a modern aesthetic without straying too far from the home's original architecture and local vernacular.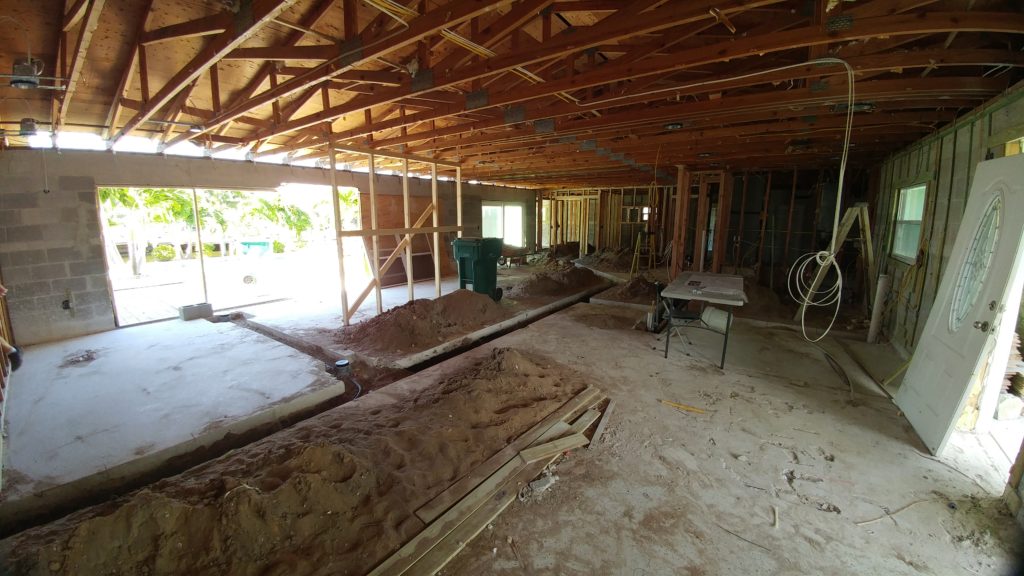 In Deep Waters with This Indian River Interior Design
Any time you're planning a major interior design project, it's wise to consult with an interior designer. For our clients, having the design team to map out and coordinate a design destination was a real asset as the project unfolded.
As mentioned, the concrete slab had to be chiseled—but our original intention was to preserve the original terrazzo flooring for an authentic piece of the home's character. But with further investigation, we realized that the terrazzo had seen better days. So, we let it go in peace and made plans to install an oversized porcelain tile in a single shade throughout the house. Like the original terrazzo tile, using a consistent tile throughout the home creates flow from room to room and is easy to maintain as well.
Interior Design Insight: Keeping key pieces from the home's original finishes is a great way to add some heritage into your design but be realistic about whether something is worth salvaging.
This Indian River interior design project needed to deliver a space that would be comfortable for a couple but accommodating for family get-togethers and overnight guests. To make this happen we transformed the home's existing bedrooms into a pair of master suites. Each suite features walk-in closets, upgraded bathrooms with luxury finishes, and access to the outdoor space.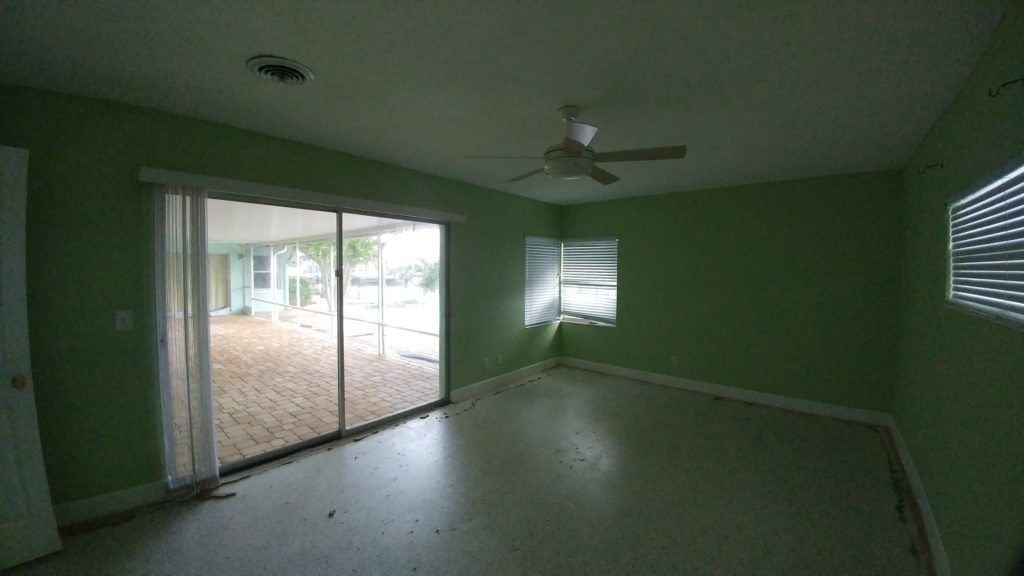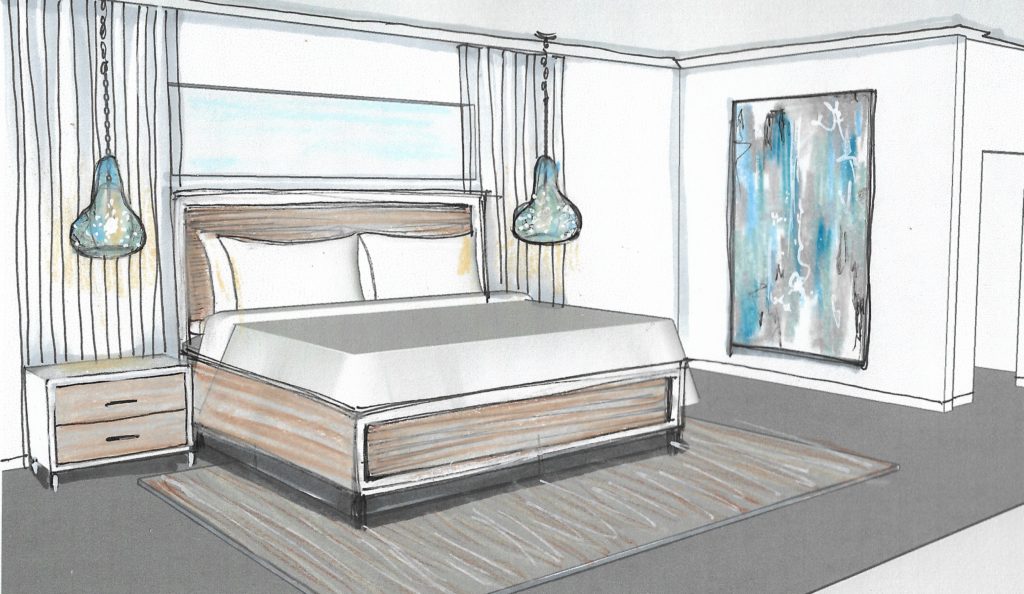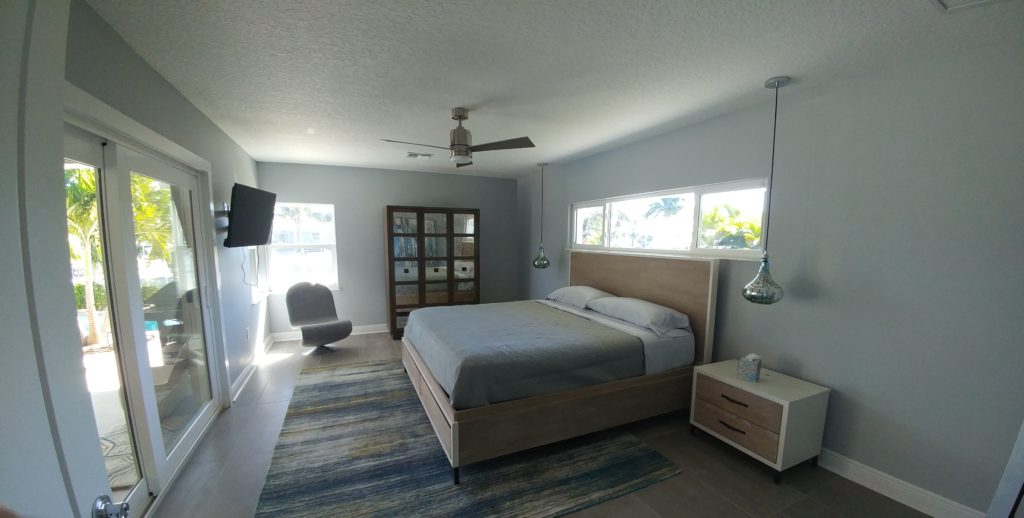 Interior Design Insight: While major renovation can be a daunting prospect, view it as an opportunity to reimage the space. If you're opening up flooring and walls, take a look at the blueprint with a fresh set of eyes.
Speaking of transforming spaces, stay tuned for Part II of our in-depth coverage of this Indian River interior design project. We'll reveal the show-stopping kitchen, along with the stunning way we transformed the living area to invite the outside in. Of course, we'll have more photos to share and interior design insights you can use as you plan your own project.