Colorful Kitchen Countertops with Character
Granite countertops have been the go-to choice for kitchen remodeling projects or new home construction. When making interior design selections, it almost seems like a given to go with granite for your kitchen counters.
We get it—granite has a lot of advantages, including hiding dirt and dust, being heat resistant, and available in a wide color palette. However, there is a wide world of kitchen countertop options beyond granite and many are available in colorful options not found in this natural stone material.
Here's a quick look at varying colors of kitchen countertops that add elegance, make a bold statement, or provide a pop of color to your interior design. For each color option, we've included common countertop materials and complementary interior design styles.
Wood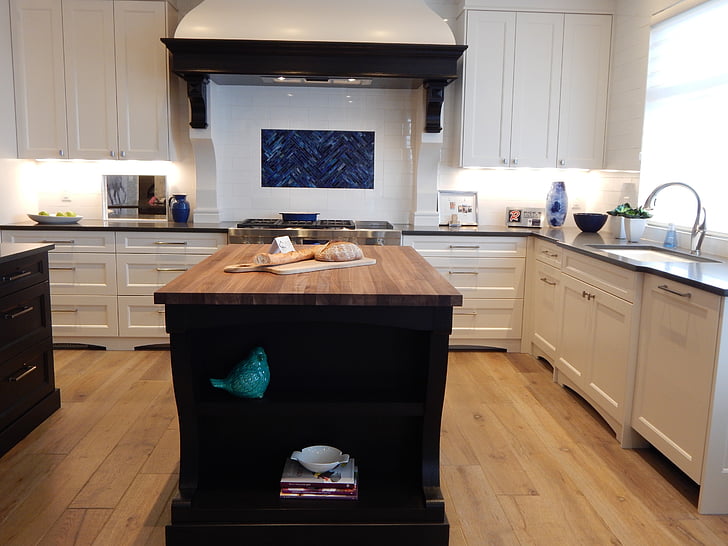 Natural materials have been enjoying a surge of popularity in recent interior design trends, and wood makes an attractive choice for kitchen countertops. The cost is in the same range as average prices per square foot for granite, but sharply increase if you're considering exotic woods.
Countertop Material: Hardwoods including maple, oak, teak
Coordinating Interior Design Styles: This style countertop is a fit for a wide range of homes but is especially striking in kitchens with traditional or contemporary design. It can be used across all surfaces, or as an accent surface—for instance on an island.
Advantages: A warm look that creates an inviting kitchen space. If you go with a butcherblock-style wooden countertop, it's also a great prep area.
Disadvantages: Requires regular (typically monthly) maintenance. You'll want to oil your wood countertops to protect them against moisture damage. In addition, knives, hot pans, and more can mar the surface easily.
Black
Black countertops make for a bold choice but can be a great option for kitchens that make the most of contrasts. When paired with lighter cabinets or a wood finish, the black countertops are a striking option.
Countertop Material: Granite, Soapstone, Quartz, Other Manufactured Materials
Coordinating Interior Design Styles: You're most likely to see black countertops in a kitchen designed with contemporary style in mind or a modern craftsman-style space.
Advantages: Spills are unlikely to turn into stains on the very dark surface of a black countertop.
Disadvantages: The facts tend to show that black countertops reveal handprints, smudges, debris, and dust—but the jury is out on whether this a good thing or a bad thing. Plenty of people prefer the mess to be obvious so that it can be quickly cleaned up, while others don't like their countertops showing every little stray crumb.
White
Countertops in white—either stark white or a softer version with various hues (like marble or granite), offer a clean aesthetic and keep the space bright.
Countertop Material: Quartz, Other Manufactured Materials, Granite, Marble
Coordinating Interior Design Styles: White countertops pair well with a wide variety of interior design styles, including contemporary, modern, and minimalist looks.
Advantages: If you love light, then white countertops are your friend. It's hard to beat the bright look that these countertops deliver. They're also a great option in small spaces.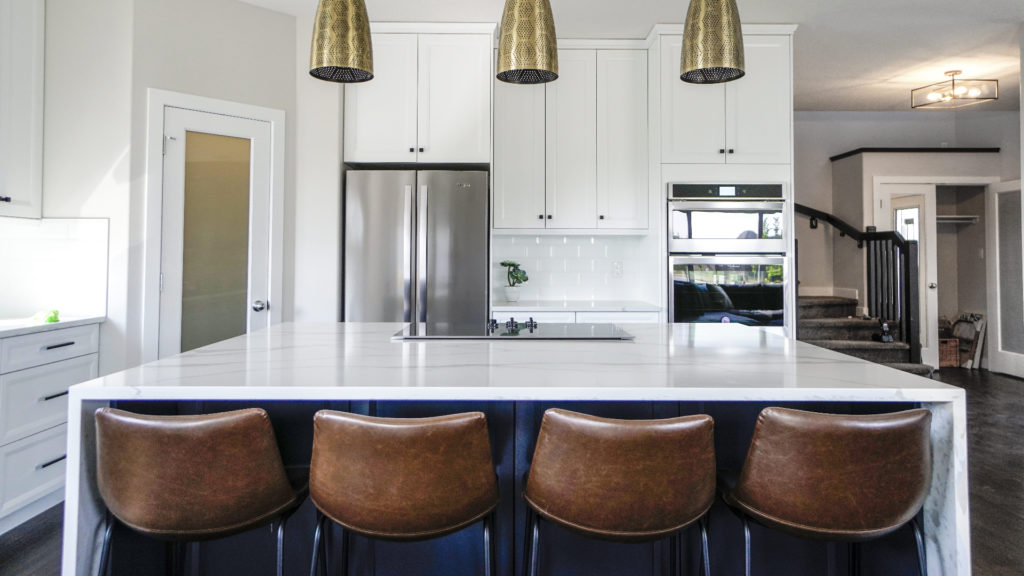 Disadvantages: It should come as no surprise that white countertops will tell no lies. Spilled coffee and crumbs will stand out against such a neutral backdrop. If this worries you but you're in love with the look of white countertops, choose a multi-hued option—like a granite or marble with flecks or veins that will hide small amounts of debris.
Gray
The color gray has shown some staying power when it comes to interior design trends, and the kitchen hasn't escaped from the domination of this new neutral.
Countertop Material: Concrete, soapstone, granite, quartz, marble, stainless steel
Coordinating Interior Design Styles: Contemporary, Modern, Traditional
Advantages: There's a reason that gray has been such a go-to choice in interior design—it looks great with a variety of color palettes, and is especially striking when paired with a rich wood grain. This ability to complement different colors and materials is one obvious advantage of gray countertops.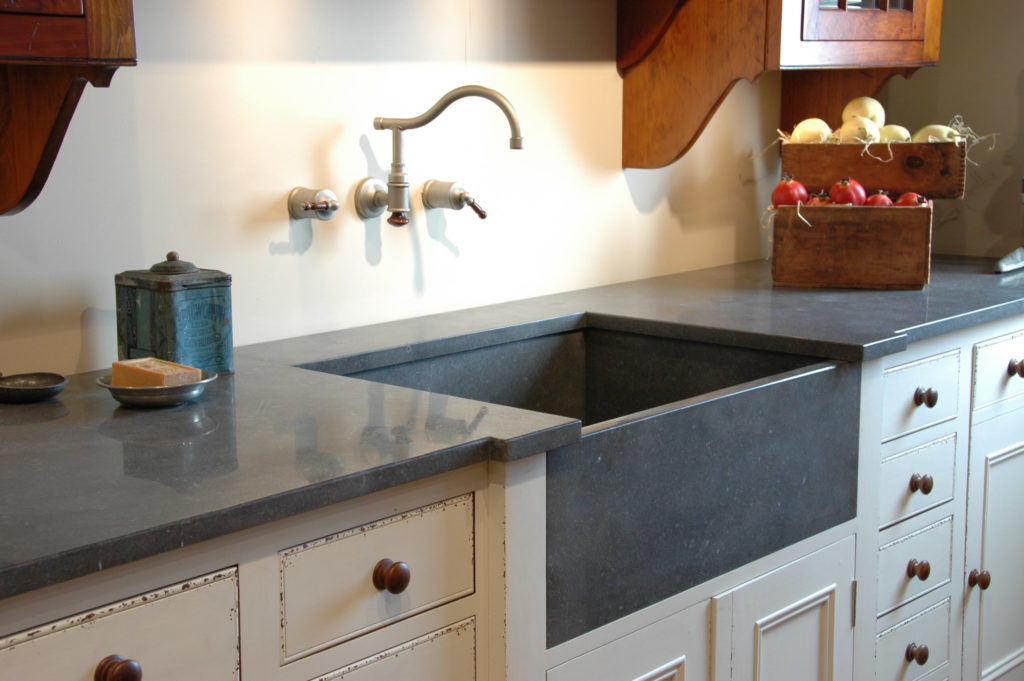 Disadvantages: Choosing a gray countertop runs the risk of looking dull—especially if you choose a matte material like concrete. Of course there are ways to ensure this isn't the case, but generally speaking, gray countertops are not known for having a lot of dimension.
Interior Design Assistance for Your Countertop Confusion
If you're unsure about which color kitchen countertops to choose, or which material to select, or even where to begin with your kitchen remodeling project, our Melbourne interior design studio can assist!
Any time you make a big investment in the way your home looks and feels, you want the peace of mind that you've made the right selections. We can help you to narrow down the options and find the kitchen look that is perfect for you.