Design Through The Decades: The 1940s
Design trends in the 1940s differ drastically, just as the years making up this decade differ drastically. World War II essentially split the decade in half, resulting in a unique time of design and life. The first half of the 1940s kept the trends of the 1930s as people were dealing with a wartime mindset, focusing on supplying their families with the basic necessities. Supplies were limited and sent towards war efforts, putting new designs on hold.
As the war ended, families were reunited, and supplies became more available, causing new design trends to take off. The war had made people grateful for everything they had, and this grateful, happy attitude permeated into the design trends. Peace, organization, and the gathering of loved ones became the priority. A mix of sentimentality, comfort, and new technology combined to create styles that were easy-going, cheerful, and clutter-free.
Essential Elements of Design in the 1940s
The early years consisted mostly of popular 1930 designs. Shortages of materials and the nation's focus on the war put design development on the back burner. Curved lines, waves, and scallops were seen throughout designs. Linoleum was extremely popular and was used for floors, cut-out detailing, and even cabinets.
As materials became more readily available in the late 1940s and a period of peace settled in, people were ready for a fresh start. New home designs began using metal and high-quality plywood. A cleaner, straighter design trend began, replacing the wavy styles of the prior years.
An overall happy, light-hearted feeling permeated new home designs. Wallpapers, florals, and bright, jewel-toned color palettes were used. Spaces were kept clean and clutter-free. People were grateful for everything they had and did not place a high value on an accumulation of material goods, but rather on family, loved ones, and the celebration of life.
New designs to make an impact in the 1940s included wall-to-wall carpet, high contrast colors, gingham, and new technology, especially in the kitchen. Radios and televisions became central items in the 1940s household.
As the Jet Age approached, hints of mid-century modern flair began showing up in household designs. These included straighter lines, sleek furniture, and larger windows. This meeting of different eras made for a unique blend of styles. As the old and the new melded together, this time period allowed for more free-flowing designs, rather than a strict, matching theme. It again added to the more care-free mashup of styles, allowing each person to use elements from different designs together in one space.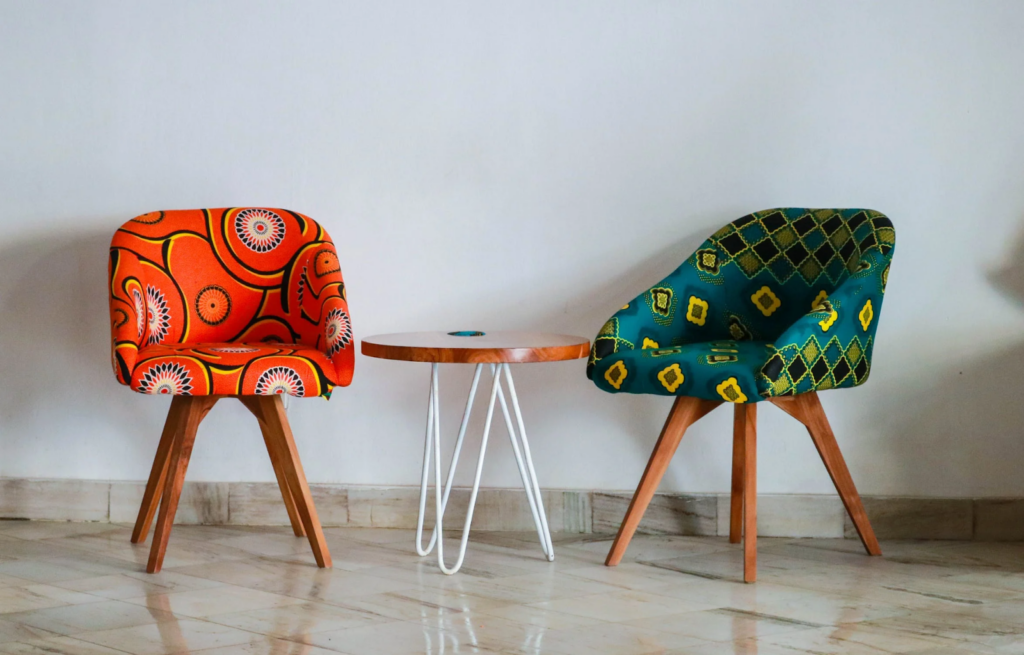 How to Use the Look Today
The dominant styles of the 1940s can be summed up in a comfortable, sentimental, sunny attitude. Perfecting an exact style took a back seat to making your home happy and welcoming. A fresh start and grateful disposition motivated the clutter-free designs and focus on familial warmth and welcoming spirit. 
This same attitude can easily be worked into our modern age. Instead of trying to perfectly mirror any particular style, incorporate what speaks to you, whether it be sentimental elements of design in the last decade or a mix of patterns. Incorporate bold, cheerful colors, happy floral prints or wallpapers, or plush, oversized rugs for a throwback to the wall-to-wall carpet trend.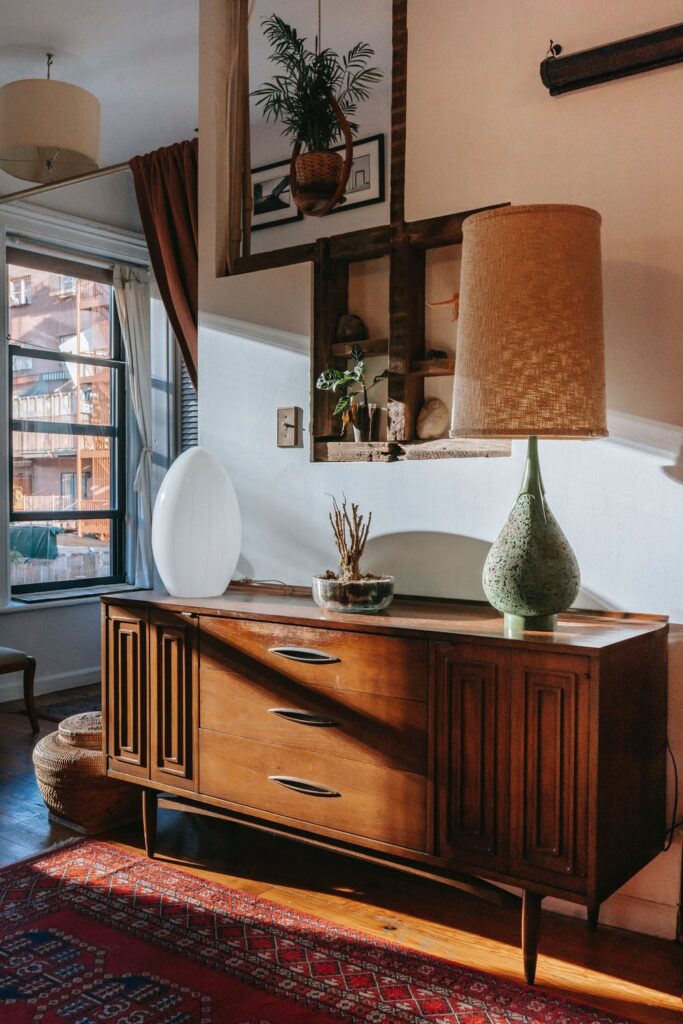 As an example, your vintage armchair may not come from the same era as your mid-century dresser or uniquely patterned rug, but you can easily mix and match these items by embracing their differences. Try adding a common element, such as a floral pillow on the chair that mimics the rug or ties in the decor on the dresser. Incorporating that easy-going feeling of the 1940s design trends allows you to mix-and-match styles based on what speaks to you, not what fits together according to a magazine or Pinterest picture.   
Freely mix and match different items, but remember to keep your space clean, tidy, and uncluttered. Place emphasis more on the use of the room and the welcoming of guests and loved ones than on the material items within it. By keeping things easy-going and tidy, you can channel the same clean, welcoming feel of the 1940s while still keeping your own modern flair.