Do I Need an Interior Designer or Decorator?
Changing your home is an exciting endeavor. Home projects breathe new life into daily routines and offer a chance for you to create the home of your dreams. When tackling a large home project, you may decide to hire an interior designer. Or is it an interior decorator? Have you ever wondered what exactly the difference is or if there is one at all? Many people have asked the same question. In this article, we will look at what the difference is between the two and how you can confidently decide which to hire for your own home projects.
What is the Difference Between a Designer and a Decorator?
Oftentimes these two professions are referred to as one and the same. However, there are some important differences. Let's take a look at what differentiates these two professions.
Interior Designers: Interior designers talk with clients, architects, and contractors, research the space and the client's needs, and design the layout of a space. They can be involved in the planning of a new space as well as any structural renovations of an existing space. Their concern is with making a space as accommodating and functional as possible. Once the bones of the space are planned out, they may also be involved with creating the aesthetics of the space, such as choosing a design style, fine-tuning color palettes, and adding décor items.
Because of their work in structural elements, interior designers require schooling and certification before working. In some states, they are required to be registered and licensed. They must know and adhere to building codes and regulations, work with the client's needs and wants, and use problem-solving to design a space that flows.
Interior Decorators: Interior decorators work with clients, furniture makers, or other professionals specializing in home items. They do not work with contractors or architects as they are not involved in planning out the bones of a space. Interior decorators specialize in the aesthetics of a room. They help the client choose a design style, color palettes, furnishings, and décor. 
Because their work does not involve structural elements, interior decorators are not required to have any schooling or licenses to work. However, many interior decorators have taken courses to study room layouts, colors, furniture styles, and other aspects of decorating.
When to Hire a Designer vs. Decorator
As you can see, interior designers and interior decorators, though similar, are specialized in different areas and therefore are needed for different jobs. What can help you determine which best meets your needs? First, it is important to think about what you wish to accomplish and how extensive your home project is. 
For example, let's suppose you are renovating your kitchen. You want to knock out your old cabinets and install new ones. Perhaps you have a wall or half-wall you would like to remove that separates the kitchen from the living room. And you want to rework where your sink sits. Because this project requires structural elements and reworking the bones of a space, an interior designer would be best suited for the job. The same applies to designing a new home. An interior designer can help you plan out your spaces to be as functional and comfortable as possible.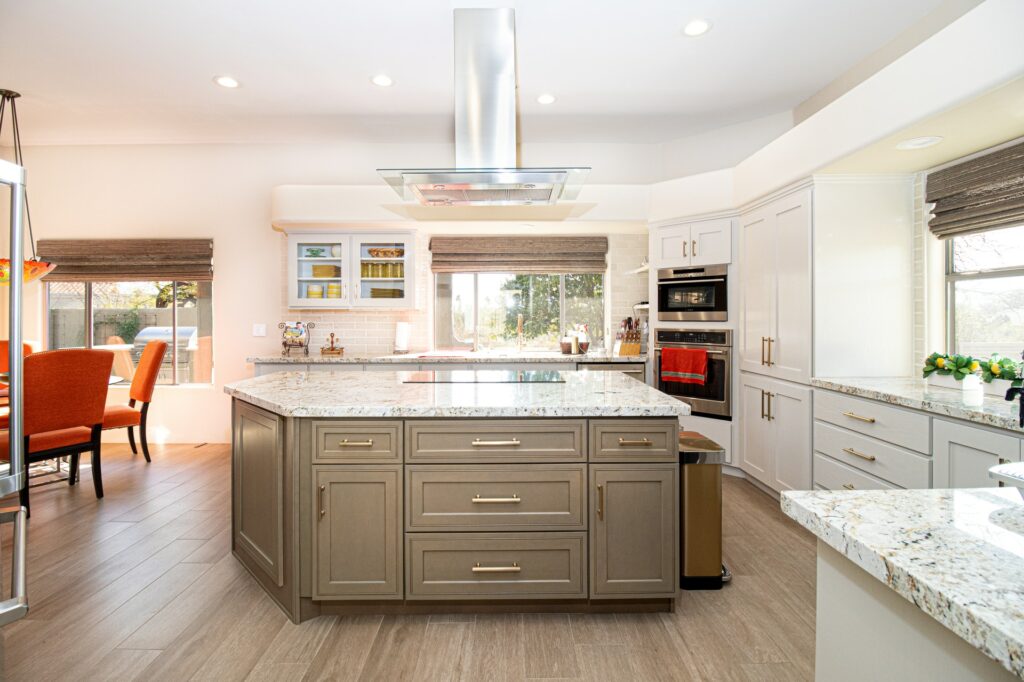 On the other hand, suppose you want to redecorate your living room. You are ready for new furnishings and maybe even a whole new interior design style. You'd like a fresh new look, but don't plan on ripping down any walls or restructuring the shape of the room. In this instance, an interior decorator would best suit your needs.
Find Help For Your Home
Whether you are looking to completely redesign your room layout or simply freshen up your style, Michael Gainey Signature Designs can offer the help you need to design a space that looks and feels like home. We have more than 30 years of experience designing in the central Florida area and beyond, and would be more than happy to help you achieve the home of your dreams.  
We offer full design work for those looking to take on big projects, as well as our renowned "Fluff and Buff" service where we work with the items and décor you already own to freshen up your space. And if you are looking for inspiration for your next project, feel free to visit our showroom, Jambalaya, in Melbourne, Florida. Whatever your design or decorating needs, feel free to contact us. We can help your dream space become a reality.