Interior Design Style Profile: Mediterranean
Airy spaces, natural colors, and outdoor-indoor living—these aspects are key to Mediterranean interior design. But what exactly does this broad term encompass? Technically, the term "Mediterranean" can include a wide range of areas from Greece to Italy to Morocco and Turkey. There is much more involved in Mediterranean interior design than the blue and white coastal-looking décor you may see at your local home decorating store. Here we will explore what this interior design includes and how you can add a Mediterranean flair to your space.
What is Mediterranean Interior Design?
Mediterranean interior design encompasses the design styles found along the coasts of the Mediterranean Sea. True, this does include a wide range of different styles, but the foundation of all of them is based on the same thing: coastal, natural living where indoor and outdoor living blend into one.
Elements of the natural world are essential to Mediterranean interior design, making outdoor spaces and indoor spaces seamlessly flow into each other. Greek styles may focus more on whites, blues, and simpler designs while Moroccan looks typically include brighter colors and ornate metalworking, but the common denominator between both approaches is an emphasis on natural undertones and inviting the outdoors in.
Keep in mind that the term "Mediterranean interior design" most often refers to southern European styles, including areas of Greece, Italy, and Spain. Mediterranean styles influenced by other areas are often referred to by other names, such as Moroccan interior design. The bottom line is that Mediterranean interior design can differ depending on personal taste and the region from which the inspiration is coming from.
Key Features of Mediterranean Interior Design
By keeping a few key features in mind, you can easily transform your own home into a personal Mediterranean getaway! Whether you are living beachside or not, these design tips can bring a coastal, natural feeling into any home.
Furnishings: Depending on your taste and the source of inspiration, furnishings can range from simple and contemporary to ornate with thick, carved details. However, dark woods (such as walnut) and rich, earthy tones are used throughout. Natural materials, like linen and cotton, complement the dark woods for a softer take. However simple or ornate, the influence from nature is plainly seen.
Patterns: What is Mediterranean design without mosaics? This beautiful art form is a great way to channel in some pops of color. Incorporate this look in tiling, backsplashes, or even mosaic vases.
For a more ornate take on Mediterranean design, intricate metal workings can be incorporated by fireplaces or in light fixtures and décor items. Simple woven patterns in jute or natural materials can be used throughout any form of Mediterranean design to bring a warm, homey feeling.
Architectural Details and Accessories: Arched doorways and windows are often used to keep things light and airy. In addition, these types of architectural features echo the structural designs of many homes found along the Mediterranean Sea.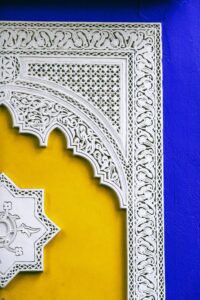 For décor, natural or historical accents such as handmade or vintage pottery, terra cotta, and vases make excellent choices. Stone, wood, tile, or other natural finishes are used to keep things earthy. Including plants or greenery in vases keeps the indoor-outdoor style flowing through any space.
Color Palette: Natural, neutral tones reign supreme in this style. Bright white walls of stucco or plaster are popular and play nicely against dark furniture and the warm browns and tans often incorporated with other design elements. Strategic splashes of color are seen in artwork or tiles, such as mosaics. The chosen colors complement the warm neutrals and echo the natural world, such as the ocean, sky, or sun. These include a range of blue tones or warm yellow, orange, and terra cotta.
How to Achieve This Look in Your Home
Keeping a few things in mind will help you effortlessly achieve this look in your own home. First off, keep things simple and calm when decorating. Avoid making a room feel too busy or loud. Neutral tones for the walls, such as white or cream, are usually best. Allow imperfections or structural beams to add character to a room, incorporating them as a part of the decor.
When choosing materials, stick to natural, earthy items and incorporate greenery or plants where you can. To help with the airy, seamless feel that Mediterranean design offers, try to keep your flooring the same throughout your home. Decorate any outdoor spaces to seamlessly transition to indoor spaces, making the entire area feel congruent and harmonious. By keeping things simple and natural, your space will quickly take on a homey, inviting feel!
Make it Mediterranean with the Help of MGSD
Mediterranean interior design is a popular choice whether you are near the coast or not. Inspired by nature and outdoor living, this style has a way of calming and welcoming people. If you are seeking to incorporate this style in your home, an interior designer can help you curate the right pieces and color palette to create the ideal Mediterranean space for your home.