Interior Design Style Profile: Traditional
Have you ever entered a space where the classic furniture, symmetrical feel, and warm tones just felt familiar? Even instantly homey? More than likely, that space was decked out in the traditional interior design style.
Many people think of stuffy or boring spaces when thinking of traditional interior design, but that isn't always the case! In fact, many traditional rooms are warm, inviting, familiar, and comfortable.
What is Traditional Interior Design?
Traditional interior design is a style that has survived the test of time. Inspired by the designs of the 18th and 19th centuries, this design style uses pieces with a historical or classic feel. Natural tones and dark wood are often used to add to the calm, familiar air.
A well-designed traditional room will have nothing feeling out of place or standing out. Furnishings tend to match and are placed symmetrically in the space.
Key Features of Traditional Interior Design
When trying to create a traditional space, there are a few key elements and design tips to keep in mind to help you achieve this timeless, comfortable interior decorating style. Here we will breakdown each key element of the style.
Furnishings
When it comes to furnishings, dark and heavy tones are most often used. Many have sloping lines and intricate carvings, giving a somewhat regal feel. However, it is not to be confused with Victorian décor, which features heavily carved, ornate pieces of furniture. Traditional décor balances the formal look nicely with warmth and approachability.
Some examples of furniture pieces include wingback chairs, armchairs, and pieces with clawfoot legs.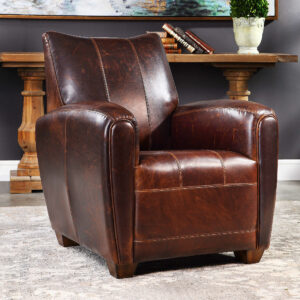 Tufted cushioning can be found in the traditional style, and pillows may include trimmings to add a thoughtful, well-crafted feel. High-quality materials are used such as velvet and silk.
The overall space has a symmetrical, orderly feel, and furniture placement is no exception. Furnishings are often found in pairs, and if there is a focal point in the room, such as a fireplace, larger pieces in the room will be placed around it.
Wood
Any wood used in a traditional space is often found in a dark color. Wood furnishings often have carvings and a mixture of curved and straight lines. There is a heaviness found in the wood that gives both a regal and comfortable feel.
Elegance is not sacrificed for over-casualness and comfortability is not sacrificed for an overly-proper tone. As with all other aspects of traditional, a balance is struck to keep things predictable and familiar.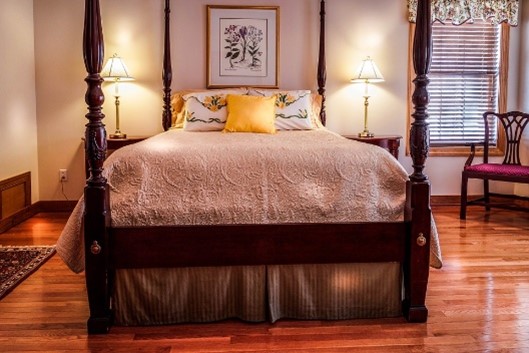 Yet again, traditional style strikes a wonderful balance by incorporating both straight and curved lines. While easily seen in furniture, it's common throughout the whole space. Many furnishings include curved carvings that complement long, straight lines found in things like crown molding, columns, or fireplaces. Heavy curtains and window treatments create draping, vertical lines that offset long horizontal lines, such as the crown molding.
Patterns
Well-known patterns are used in this style, such as plaid, floral, stripes, or paisley. These patterns are often small and are not jarring against the rest of the room. Sticking with the overall theme, they are familiar and calm, not standing out unnecessarily. These patterns are most often found on upholstery, drapes, or pillows.
Color Palette
The color palettes found in a traditional style are subdued and calming on the eyes. Muted colors of red, green, brown, and jewel tones are most popularly used as accents.
Large areas, such as the walls, are typically neutral to allow the accents of the room to shine. Gold or silver accents can be found in decorations such as candlesticks, lamps, china, mirrors, or vases. When choosing colors, think muted, dark, and sophisticated, yet comfortable.
Incorporating Traditional Interior Design in Your Home
A well-designed traditional space makes for a welcoming, homey room where lounging with a cup of coffee or tea just seems natural! A familiar space that does not call undue attention to itself, traditional interior decorating may be just the cozy style you are looking for.
But where exactly do you start? Here is a quick summary of the key elements to keep in mind when striving for a traditional interior design:
Traditional décor always has an orderly, symmetrical design. Nothing stands out or seems out of place. Many items can be found in pairs to keep with the symmetry, such as lamps, chairs, or side tables.
Furniture consists of casual, yet elegant pieces, such as antiques. Dark wood is used and many have carved details to add to the sophisticated air. A balance is found, however, and a traditional space is not overrun with too many detailed carvings or ornate features. Long, straight lines are found in things like crown molding, heavy drapery, or wood paneling.
The base colors used in a room are neutral to allow the accents to shine. Accent colors are commonly dark and muted reds, greens, browns, or jewel tones. Familiar, timeless patterns like plaid, stripes, florals, or paisley are frequently found on upholstery, drapery, or other accents.
If you are searching for the perfect pieces, paint colors, and furnishings for a comforting traditional home, hiring a professional interior designer is a great place to start. At MGSD, our expertise and design skills will keep your traditional interior design project looking classy, not clunky.