Serve Up Style By Following these Dining Room Rug Rules
The right rug has a way of both completing a room and offering a foundation to springboard your décor plans. But finding the perfect rug for your dining room brings up a few extra things to keep in mind. The dining room is a hard-working, lived-in room, and whatever rug you choose must stand up to the unique wear and tear that comes with dining room traffic. Let's look at some important "rug rules" to follow that will ensure your rug choice not only looks great but functions great too! 
Rug Rules for Dining Rooms
1. Match your rug size to the room size: Choosing the right rug size will make or break your rug's appearance in a room. Too small of a rug looks awkward and in the way. Too big of a rug may run into other furniture pieces and make the room appear off balance.
For the dining room, it is best to err on the side of a larger rug than needed. This will ensure that your chairs have enough space to freely move around the table without the hazard of getting tripped up. This will also showcase your table and give the room a grand feel. Just be sure it is not so large that it runs into other furniture pieces in the room.
2. Stick with short pile or flat weave: Though we would love to avoid all spills and messes, they are bound to happen in your dining room. When choosing a rug for this space, keep to the short pile or flat weave options. These will allow you to mop up any spills or messes much easier than a shaggy rug, which likes to eat up your food as much as your guests.
The short pile or flat weave rug has another plus: it is easier to move your chairs. No one wants to fight with their chair before sitting down or standing up. While thick rugs tend to grab at chairs and prevent smooth movement, short rugs allow for free-flowing movement and a better dining experience.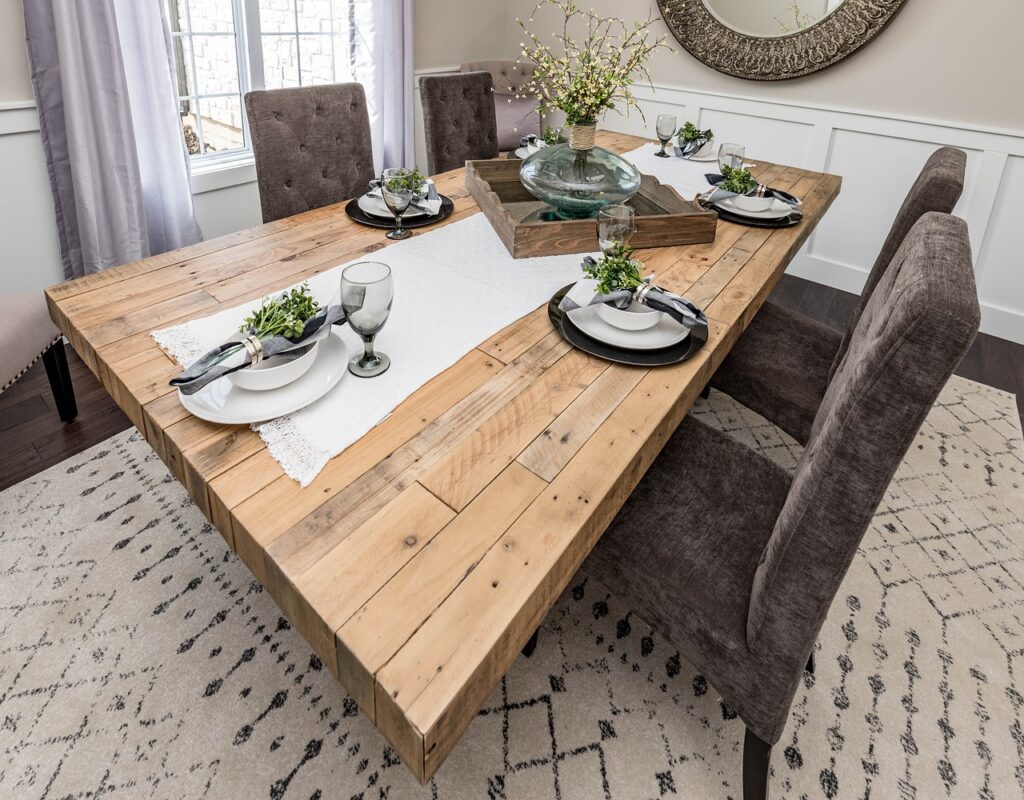 3. Complement your table shape: Another great way to showcase your table is to complement the table shape when choosing your rug. For example, round tables look fantastic with round or square rugs while long tables look great with long, rectangular rugs. By mirroring the basic dimensions of your table, you can keep everything flowing and seamless to the eyes.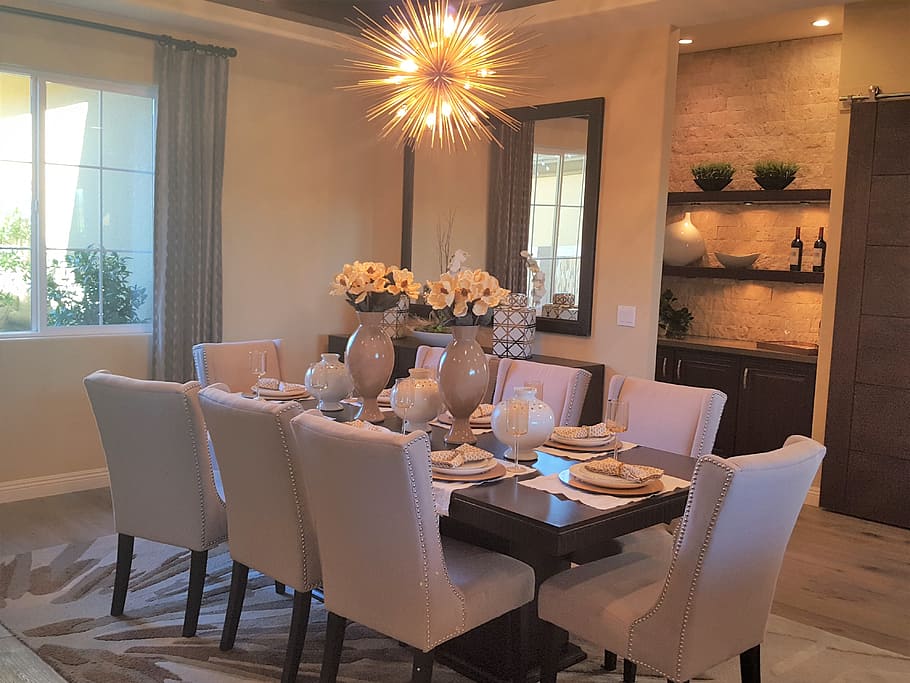 4. Cleaning is key: With the high traffic and heavy use that the dining room sees every day, making sure your rug is easily cleaned is definitely of high importance. Foot traffic, dirt, and the unavoidable spill are bound to find their way onto your dining room rug. How easy it will be to clean a rug is influenced by pile height and also the material of the rug. Some materials clean up better than others, and some rugs are even designed with cleaning in mind. Choosing a rug with easy cleaning requirements will not only make your life easier, but it will also allow you to serve up dark red spaghetti sauce without fear!
5. Choose colors carefully: Choosing a rug that coordinates and complements the colors you already have in the room is important for any space, but color choice is even more key for the dining room.
Again, keeping in mind that the dining room is a well-used space will enable you to choose a color or pattern that is both visually pleasing and practical for a high-traffic area. Though light tones may look great with your table set, they won't hold up to dirt and foot traffic as well as darker colors will. Not to mention food spills and messes that could stain a light-colored rug. Deeper tones and patterns do wonders to add visual interest as well as hide any stains and wear and tear.
Laying It All Out – MGSD Can Help You with Rugs and Other Design Questions
A well-chosen rug can make a space really come to life. It offers a chance to add some flair while still giving your space a warm, inviting feeling. Color, pattern, style, and size are important to consider for any room, but by keeping these extra "rules" in mind for the dining room, you can find the perfect rug for this hard-working space.
The experience and advice of a professional interior designer can help you pick the right rug, avoid other design dilemmas in the dining room, and answer other questions you may have regarding interior design.