Spring 2022 Design Trends Spotted at High Point
Twice a year, design enthusiasts eagerly anticipate the High Point Market and all its new design trends. The Spring 2022 High Point Market was bursting full of springy, earthy energy and offered a multitude of great ways you can incorporate these nature-inspired trends in your home. Here we will take a look at three of the most prominent trends spotted at High Point Market and how you can channel the bright, vibrant look into your home.
1. Warm, Earthy Color Palettes
Crisp white and gray tones have dominated the color palettes for years now, but these tones are giving way to much warmer, earthier hues. Warm taupes, tans, and cognac tones were the star neutrals of this spring's High Point Market. Paired with chalky blues, forest or fern greens, and other grounding colors, these new earthy tones create a sense of calm and comfort.
Another aspect of this includes wood tones, and blonde woods are the "It" item. Light, airy wood tones and white-washed wood were seen extensively throughout the Market.
Incorporating these earthy tones can be as simple as adding splashes of cream, tan, or taupe instead of gray. Painting walls, changing curtains, or adding a new throw to your sofa are easy ways to do this. Accent these warm neutrals with nature-inspired greens, blues, or rusty browns. Rugs, pillows, or artwork are great ways to add these grounding colors.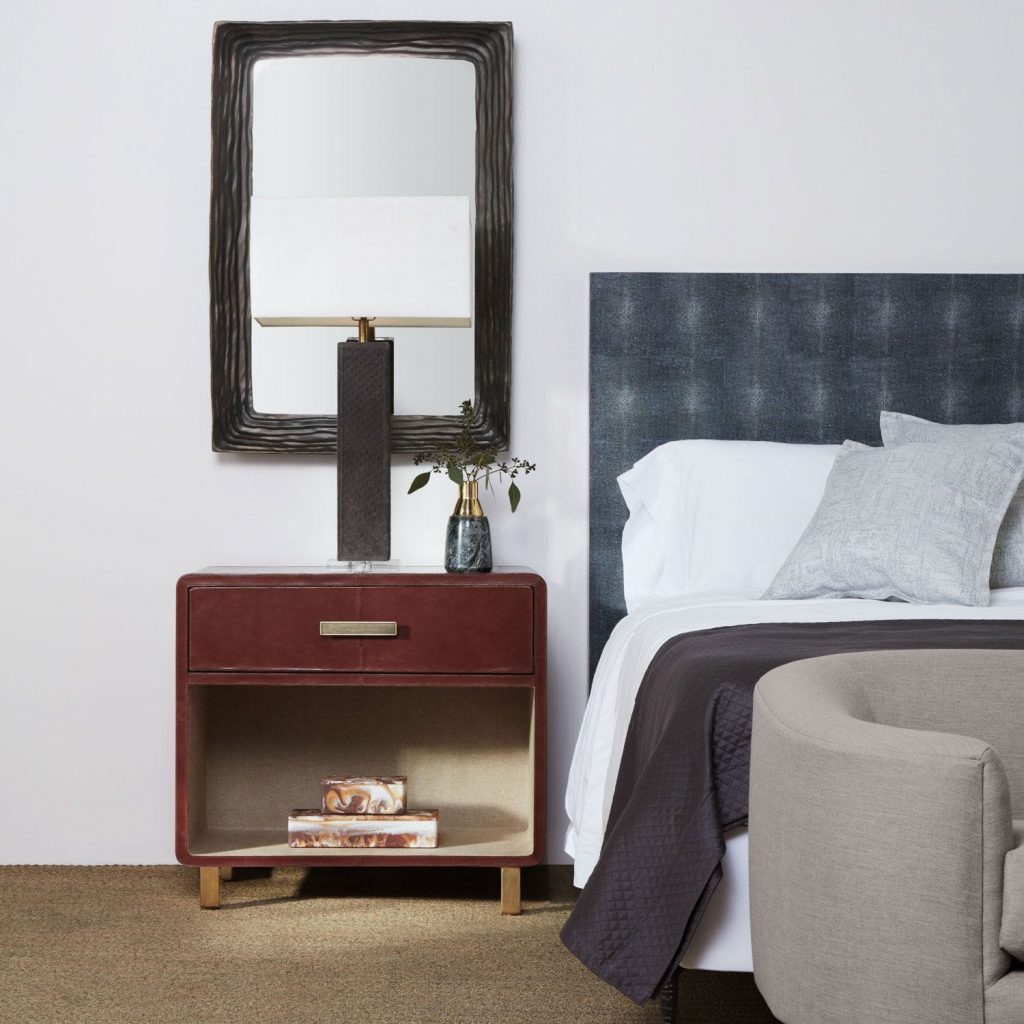 2. Curvy, Organic Silhouettes
Keeping with a more organic feel, furniture shapes have shifted from sleek, harsh angles to curvy, organic silhouettes. Upholstered furnishings, casegoods, and tables all featured these unique, curvy shapes.
As for upholstery, boucle continues to be the main star here. White boucle is still seen in abundance, though different colors and patterns were popping up in the Market. On top of more playful boucle designs, a new material is making a strong appearance—velvet.
To add a touch of this curvy character to your home, try incorporating a rounded armchair or organically shaped coffee table. For upholstered pieces, opt for textured material types such as boucle or velvet.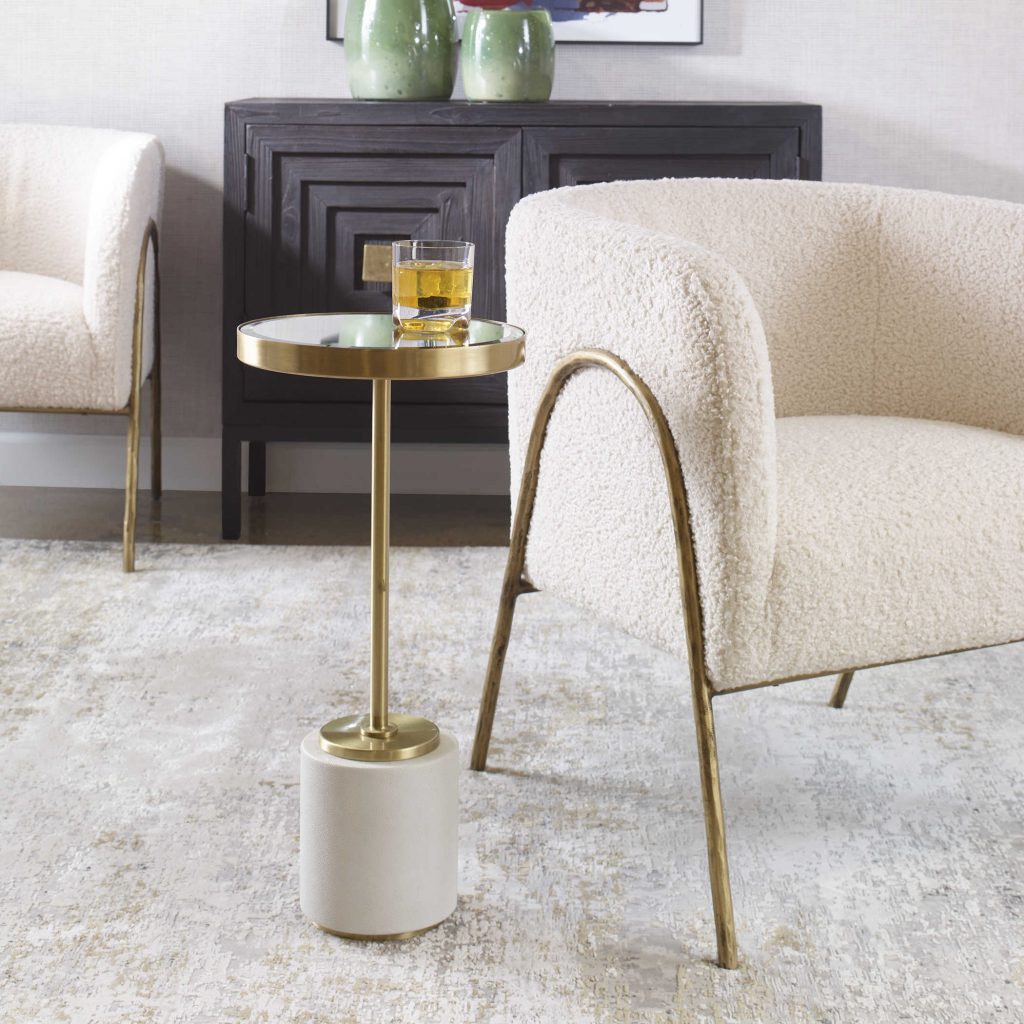 3. Designs Borrowed from Nature
Going right along with the more earthy, organic trends already mentioned, the third most-seen trend highlighted at High Point is the abundance of nature-inspired designs. Elements of the forest were expressed with leaf prints and patterns, raw wood details, and botanical prints. These integrate wonderfully with the grounding, earthy colors to create a naturally calming space. These elements further blur the lines between indoor and outdoor living, a key aspect of central Florida interior design.
Nature's sparklers, gems and stones, also provided plenty of inspiration. Tables and décor items mimicked the eye-catching shapes and angles of raw and faceted gemstones. This added a unique layer of straight edges and sharp angles that nicely contrasted with the curvier, more organically shaped furnishings. As for materials, stone, quartz, and other gem-like materials were seen, adding a hint of sleekness to the designs.
You can incorporate some nature-inspired designs into your home by sprinkling in different elements of the natural world. Try incorporating floral or leaf motifs, adding in raw or freeform wood, or incorporating nature-inspired artworks. Add in décor items or side tables that mimic a gemstone's unique shapes and patterns.
Give Your Home a Spring Lift
The High Point Market was packed with new and upcoming trends, but these nature-inspired themes really shined. As more and more people look to nature for calmness and seek to live in more harmony with the natural world, interior design trends continue to bring the outdoors inside. From a shift in the popular color palettes to using nature-inspired decor items, the natural world was highlighted as the most influential inspiration of the Spring High Point Market.
As the natural world wakes up after a long winter, don't be afraid to use the emerging life as an inspiration to renew your own space. Try ridding your space of wintery grays, replacing them with warm tans and taupes. Add in forest greens, chalky blues, or rust browns to ground the space. Replace overly structured chairs or sofas with curvy, organically shaped furnishings. And use natural objects to decorate the space, such as leaves, wood, or geo-inspired pieces. By adding these trends from High Point Market, you can turn your space into a nature-inspired haven.