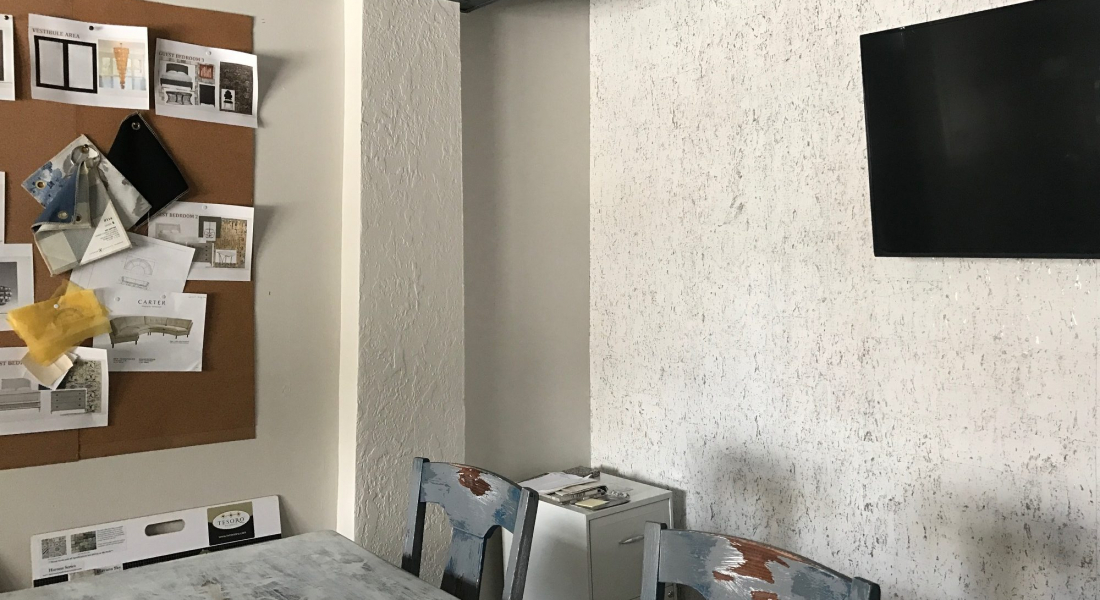 Studio Story – Our New Space for Interior Design in Cocoa, Florida
If you're looking for interior design in Cocoa, Florida, then no doubt you've heard of Michael Gainey Signature Designs. As a local designer with national appeal and projects featured in publications such as Elle Décor, this interior design firm combines native Florida style with eye-catching design details that elevate projects to the next level.
The village of Cocoa, Florida has long been home to MGSD, and the Belair Courtyard is a familiar spot to the many clients and friends who come to seek interior design advice. However, the team at our interior design firm continues to grow, and so we've moved into a bigger and better studio for interior design in Cocoa, Florida. You can still find us in the Belair Courtyard, but we are now located at 250 Brevard Avenue – you'll find us at the first door, just up the North staircase.
The new studio gave us the opportunity to let our imaginations bring the historic space to life with new colors, textures, and patterns. Here are some of the highlights!
For the color palette, jewel tones reign supreme in the entryway and in the designer's private workspaces.
Proprietor and designer Michael Gainey's office offers a rich color palette of ruby red paneling mixed with Asian and traditional influences – a favorite look of his.
The designers office is a vibrant emerald green paired with beautiful black accents in a stunning color combination, perfectly punctuated by gold chandeliers.
A bright blue beckons clients to take a seat in the lounge while waiting or musing on their next plan for interior design in Cocoa, Florida.
Finally, the central collaboration space features a chic gray that doesn't compete with the creative process meant to take place in this room. But adding texture and visual interest is a feature wall with birch-look wallpaper.
The studio doesn't shy away from the use of color – but also keeps its use balanced and in harmony with the purpose of each space.
Special attention was given to one of the most historic pieces of the studio – the flooring. Rich woods of yesteryear were brought to life through a labor-intensive sanding and lacquering process. The end result is a gleaming sea of hardwood spotted with patterned rugs to add a warmth to the space.
Have you visited our new studio yet? Drop in and see what we've been up to. And if you've already visited, share with us your favorite part of the new space!