Style Showdown: Classic Vs. Traditional Interior Design
If you're searching for a timeless decor style, classic and traditional design are top options. These two interior design styles share similar principles of design that give the look staying power in the face of short-term trends or fleeting fads.
However, don't think that classic and traditional interior design are the same in all respects. These two design styles share some common attributes, but each one offers a different style outcome.
Learn more about the points of common interest between classic and traditional design, as well as the differences and how to choose the right style for your space.
Similarities of Classic and Traditional Styles
When comparing classic and traditional décor, the strongest similarity is the influence of neoclassical design. Based on Greek and Roman design and architecture, neoclassic architecture and interiors emphasize rectangular shapes, ornate motifs, and the use of columns.
Classic interior design was a direct result of copying style elements from the Greek and Roman time period. This approach to design took shape in the 17th century in France and spread across Europe. Classicism, as the style is referred to, became the style de rigor of nobility and aristocracy in France, England, Russia, and Germany. Not surprisingly, people set their sights on copying this style. By the 1700 and 1800s, traditional design emerged—borrowing significant aspects of classicism to craft a conventional approach to interior design.
Some of the most common similarities between classic and traditional styles include:
Rectangular shapes and columns: Structure is a key aspect of these two styles, so it's not surprising to see rectangular shapes and columns play a prominent role in rooms decorated in either classic or traditional design. Furnishings like chairs, tables, and sofas will usually be more rectangular in shape, anchoring a room and setting clear sight lines. Columns are often used to separate spaces without interrupting the flow between rooms. You may see classic or traditional interiors with columns separating a formal dining room from other living spaces.
Dark wood tones: Both traditional and classic design give rooms a rich appearance, and that's partly due to the fact that rich, dark wood tones are the norm. Rather than using light or unstained wood, floors, furnishings, and other wood accents will often be dark in appearance.
Neutral color palette: Both styles emphasize the use of warm neutrals when choosing paint colors, upholstery fabrics, and other accents.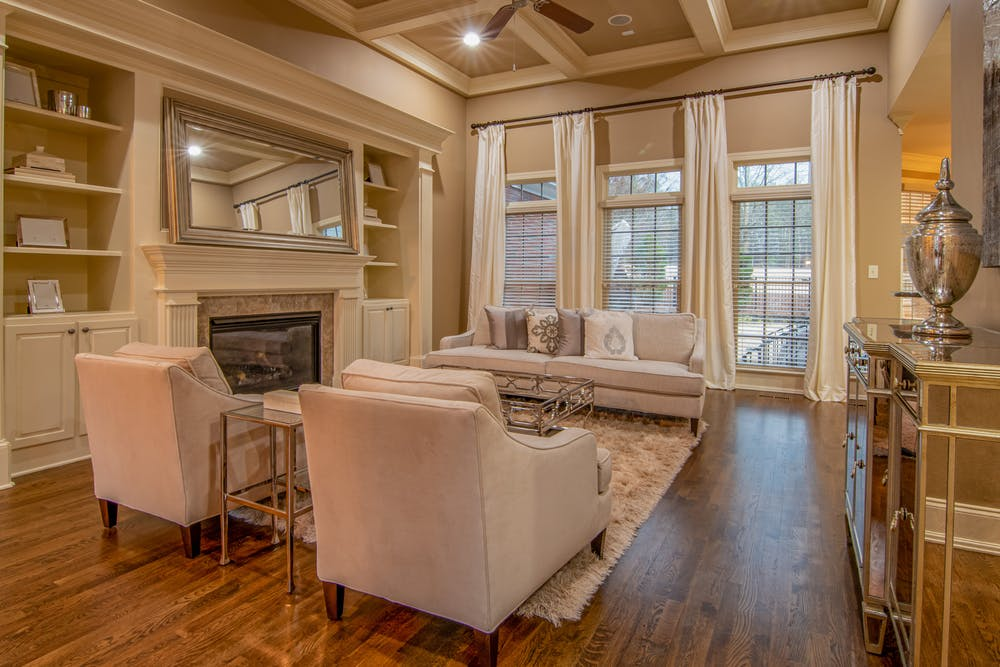 Symmetry: One of the most significant aspects of traditional and classic design is the use of symmetry. These design styles emphasize balance. Furnishings and accents are usually presented in pairs.
Differences between Classic and Traditional Styles
While classic and traditional interior design emphasize certain common principles, they do differ in other aspects. Generally speaking, classicism has a refined feel that carries a stronger sense of elegance, while traditional design is more adaptable to everyday living.
The most notable differences between the two design approaches are:
Details: Ornate details are common to classic designs; the style takes every opportunity to provide an elegant touch to common objects. On the other hand, traditional design uses simpler motifs.
Accent colors: While it's true that neutral colors are the backbone of both design styles, traditional design encompasses a broader range of color expression. The most common colors are rich hues like red, blue, and green.
Deciding on the Right Style for Your Home
Which of these timeless interior design styles is right for your home? The good news is that both traditional and classic design are looks based on design principles that have remained unchanged for centuries. In other words, these design styles have real staying power!
Factors to consider when choosing between classicism or a more traditional style of decor include your vision for your home, as well as how you plan to use the space on a regular basis. There is no denying that classic interior design has the upper hand in elegance but it may not feel like the ideal fit for everyday living spaces. Traditional design still carries a dignified, refined aesthetic, but pares back on the fancy feeling to a level that keeps the room comfortable and inviting.
At our Brevard design studio, we can help you explore your vision for your home and learn more about these two interior design styles. Visit our portfolio or make an appointment with us today.