The 5 Essential Interior Design Pieces Your Home May Be Missing
How do you define the 'essentials?' For an avid outdoorsman, the essentials might include a backpack, sturdy hiking shoes, a GPS app, and plenty of fluids to stay hydrated – especially in the hot Florida sun! For a working mom, the essentials might be a large, versatile bag that can multitask as much as she does – filled to the brim with a laptop, planner, and school field trip permission forms. For a young professional, the essentials may be more simple – a tablet, smartphone, wallet, and keys.
What about for your home? It's safe to say that there are interior design essentials that are necessary in every house. Whether you call Cocoa, Florida home or it's just your vacation getaway, there are some objects you just won't feel right without!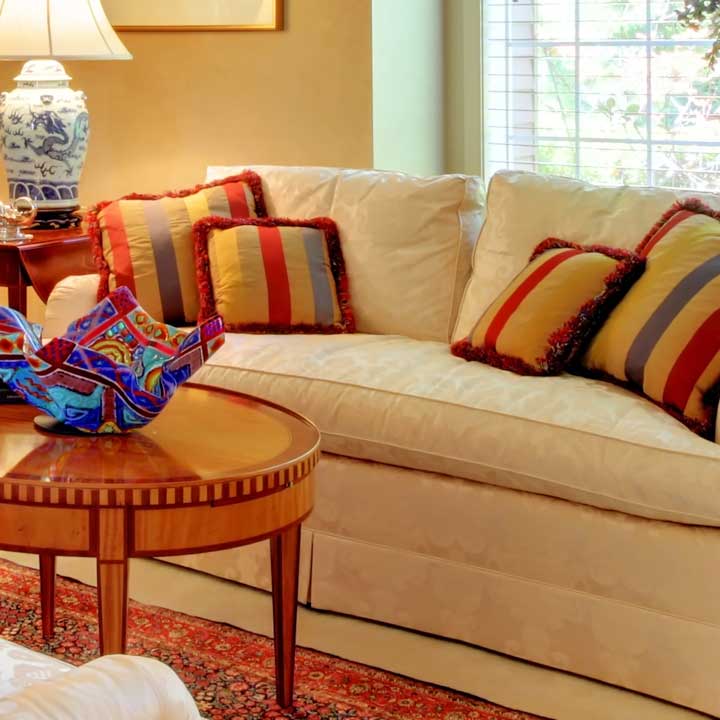 Here are 5 of the most essential (and versatile) interior design pieces that any home can have. Of course your essentials may be different depending on use, circumstance, and lifestyle. But this list is a good start to see whether you have all the bases covered or are falling a little short!
A Love Seat.
No, this isn't just a too small couch. The love seat is a functional piece that proves its value when its versatility is put to the test. Need to add some additional seating space for guests but don't want to overwhelm the room with large pieces? Add a love seat. Looking to add definition and cozy seating in the bedroom? Add a loveseat at the foot of the bed. Have a breakfast nook that needs a sunny seating option to start the day? Add a love seat. The space may be limited, but the options are endless.
Side table(s)
If you have a couch in your home (which you probably do…) then it needs company in the form of at least one side table. Two if space allows. A side table is also useful next to the bed, as a spot to set a lamp that provides soothing ambiance, a place to charge your phone, and a drawer for your nighttime reading material.
Decorator's Tip: The height of your side table should be slightly higher than the arm of your couch. If it ends up being shorter than your couch arm, the table will look unbalanced, and prove to be less functional! If your side table will be standing solo, then look for a piece that is 24-36 inches tall.
A Bench
If you value the ability to add seating at a moment's notice, and appreciate a piece that will add visual interest, then a bench is an essential decorating piece for you. If you opt for a backless bench, you'll find that it fits nicely in your living room, foyer, sun room, bedroom, or just about anywhere else in the home you will ever need to seat someone.
Bonus option: Swap out a set of chairs for bench seating to add a simple, cozy feel to your family dinner table.
The Occasional Chair
What's the occasion? Anything with this go anywhere, do anything piece. Think of an occasional chair as your all-around workhorse. Use it as a fun accent piece in your living room, or claim a corner in your bedroom to sit and sip your morning coffee, or send that utilitarian office chair to the curb and replace it with a much more stylish and visually interesting occasional chair.
Decorator's Tip: Many dining chairs can be a great choice as an occasional chair. Look for one with architectural details or lines that appeal to your sense of style – be it whimsical, modern, or traditional. Vintage dining chairs that are one-of-a-kind make a great find also.
A Dresser
Yes, a chest of drawers is essential for housing your t-shirts, pajamas, and other foldable garments. But it can do so much more – earning it a spot on our list of the 5 most essential furniture pieces! Consider a dresser as an easy solution to storing table cloths, linens, and silverware and place settings. Or, turn a dresser into a chic bar for the living area – check out Pinterest for ideas and inspiration.
No matter your lifestyle or size of your home, there's a good chance that your home could benefit from incorporating one or more of these five essential interior design pieces. Sometimes it just takes imagining familiar objects in the light of a new, exciting purpose. That's where the advice of an interior designer can be useful!
At Michael Gainey Signature Designs in Cocoa, Florida, we love to help our clients and friends learn what their house needs to feel like a home. We offer decorating and design advice that will help you move from functional to fabulous in no time – while covering all the essentials!