To T.V or Not to T.V – That is the Question
Decisions about shoes. Decisions about dinner. Decisions about the dog's latest haircut. These are all things your spouse may be happy to acquiesce on, or perhaps even be completely opinion-less on. Even decisions about interior decorating may meet with little or no commentary – until your designer asks about the location of the television. Suddenly, opinions are abundant. And they often come from all directions, including your husband, kids, the neighbor, and your husband's football-watching buddies. What to do with the TV is perhaps one of the most hotly debated topics in interior design since it became a ubiquitous household item in the 1960's. Televisions have been accused of stealing the spotlight from other acquisitions that would naturally be a focal point. So with football season fast-approaching here in Brevard, and autumn interior design ideas emerging, what is the best answer to create a stylish space while maintaining household peace?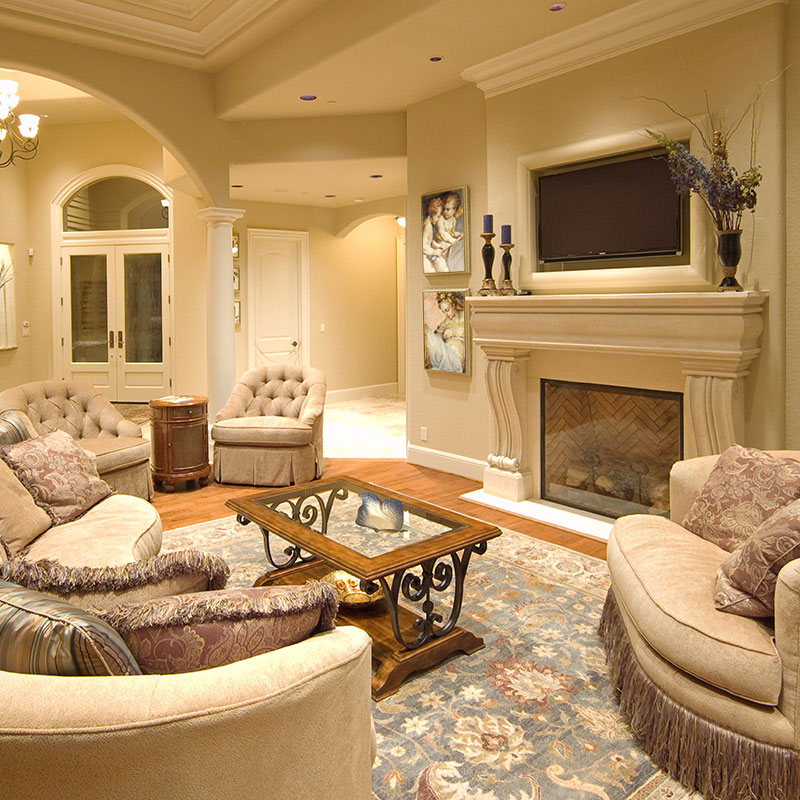 What to do with the TV
Fear not – the latest interior styles and the latest programs can cohabitate. Essentially, you can approach the television issue in one of three basic ways: move it to another location, hide it altogether, or embrace it and incorporate it into the design. Here's more on what is involved in each approach.
Move It: For those that feel the television is a time-stealer, a communication barrier, and a mental escape leading to nowhere, well…you could be right, but your family probably isn't going to let you put that flat screen to the curb. Especially not with football season starting on September 10th! If the television's current position is stealing family time, maybe the answer is to move it elsewhere. Is it currently a focal point in your great room? Moving the television out of the heart of the house's activity may make it less tempting to tune in on the television while tuning out the rest of the household. A den or an office with a designated space for television watching may make the time spent there more purposeful, not convenient or habitual.
Hide It: You may not have another room to stash the television away in, or your family may actually find the living room to be the ideal gathering spot for a movie session or Football Sunday. But you don't have to live with the television as THE focal point. Interior design is about finding a way to make the principles of style mesh with functionality, in a way that fits your lifestyle. Hiding the television is a great way to accomplish this. There are hidden televisions all over Melbourne and Cocoa – and probably across the state of Florida. They keep to themselves in modern cabinets or fabulous armoires that fit the mood and feel of the space. When duty calls, they are already connected and ready to go; but when T.V time is over, they retreat into the background of the room's design.
Embrace It: Let's face it – the television isn't going anywhere. For those that like to go with the flow and would rather embrace change than try to control it, consider making the television a part of your design. Talk with your interior designer and explain your concerns. You may be surprised at the creative ways to integrate the television into the new look and feel of your space. Gone are the days of drab wood cabinets housing heavy, gray boxes with bulging screens. Televisions today are sleek, modern, and unobtrusive. They can easily be melded into the look of a room – without stealing the spotlight. In fact, the geometric design of the television lends itself to many modern elements of design.
Just as there is no one perfect interior design scheme for every home in Brevard County, there is no one perfect spot for the television. Honestly assess your family's television habits, spend some time browsing ideas online, collect those that seem relevant to your layout and design vision. Then talk with Michael Gainey Signature Designs about how to embrace your television – instead of your television ruling the room!