Transform Your Guest Room Into A Stylish Home Away From Home
The busiest travel season of the year is already underway! In beautiful Cocoa, Florida we see our fair share of sun-seeking guests each winter! If you are playing host to overnight company, it may be a good time to evaluate the state of affairs when it comes to guest accommodations. Is your spare bedroom a hiding place for spare parts, or an inviting and cozy hideaway where your guests will feel at home during their stay in Florida?
The Lost Bedroom of Gloom
Many times, great attention to detail has been given to the main living areas of the house. Kitchens, living rooms, and dining rooms tend to steal the show. After all, that's where the majority of entertaining occurs. But when guests come to stay for longer than an evening dinner party, you want them to feel at ease in your guest room – and not as if they've been annexed to the lost bedroom of gloom. The key is to extend your sense of style into the guest room, while combining it with practical elements that make for a comfortable stay.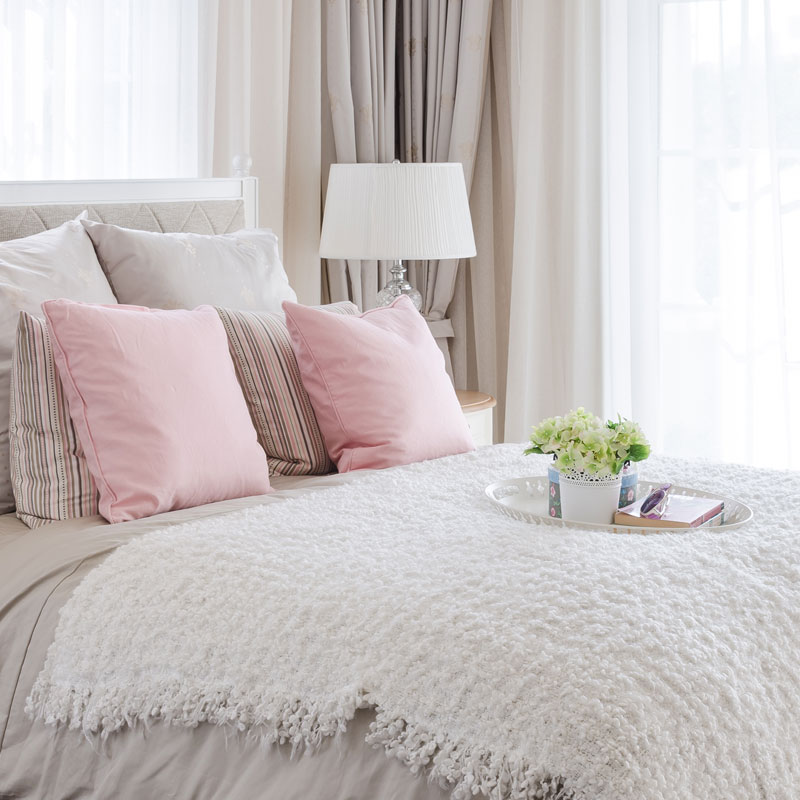 Make It Stylish
While your guest room may be a less frequented area of your home, it should still reflect your taste in interior decorating and exemplify Florida style. Whether you choose to continue the motif you've keyed in on with your interior designer or you choose to vary the path slightly, establish a theme and a design direction. For instance, what color palettes are at work in the rest of the house that you'd like to incorporate into this space? A great way to accomplish this is a beautiful bedspread, pillows, and a bolster in a contrasting print. The bed is often the focal point of the room, so choose a color and pattern that is welcoming and stylish. Don't let this grand statement fall flat by purchasing a generic or uninspired comforter set in a bland color.
Another way to breathe life into a less-frequented space is with color. Choose paint for the walls that harmonizes with the rest of the paint scheme in your house. It may or may not be the same color as your main living areas, but you certainly don't want it to be jarringly different. Your interior decorator will be able to identify complementary colors that will create the right ambiance and make your guests feel welcome.
Don't forget to decorate the walls, either. A room with no art is a bit like a prison. Choose pieces that tell a story, or invoke the natural beauty we enjoy here in Cocoa. Also, guests may appreciate a full-length mirror for last minute wardrobe checks.
Thoughtful Touches
Once you have the interior design element covered, your guest room is well on its way to being redeemed from a lost bedroom of gloom. But to really make it a cozy retreat for your company, consider adding some of these final touches:
A vase of fresh flowers in a color complementary to your design scheme.
A few of your favorite books and a sampling of magazines for early morning or evening downtime.
A power strip to plug in electronics – laptops, tablets, and cell phones all seem to be travel essentials these days!
If space allows, a sitting chair provides a cozy corner for your guest to unwind or take care of necessary business.
Provide maps and highlight local attractions in Brevard County that your company may want to explore on their own.
Even the gloomiest of guest rooms can become a cozy escape for overnight company. Incorporate these tips, or let the experts at Michael Gainey Signature Designs tackle the task while you focus on the fun part – getting ready to entertain!