Window Dressing: The Difference Between Curtains and Drapes
Curtains and drapes—these two popular window dressings are often spoken of as one and the same. But did you know there are a few key differences between them? Knowing the features of both can help you choose the right window treatment for your space.
Window treatments can quickly shift the overall feeling and aesthetic of any space, adding anything from a formal flair to a soft, feminine feel. Let's look at the differences between curtains and drapes so that you can choose the right option for your room.
The Difference Between Curtains and Drapes
Length: The lengths of curtains and drapes vary. However, curtains are seen in many lengths, while drapes are only seen in floor-length panels. Curtains can be seen cascading to the floor, reaching to the end of the windowsill, or even hanging at the halfway point of your window. Drapes, on the other hand, only extend to the floor. These are also available in extra long lengths that allow the drapes to puddle onto the floor. 
Colors: Curtains are found in a wide range of colors, patterns, and designs, which adds to the versatility of this window treatment. Drapes are often seen in solid colors. Though patterns do exist, it is more common for drapes to be a single hue. This adds to their more streamlined, formal appearance. 
Thickness: The thickness of fabrics used in curtains and drapes is another differentiating feature. Curtains can be both solid and sheer but are made of thinner material than drapes. Drapes are made with heavier fabrics and are often lined, depending on the amount of light the drape is designed to block out. This factor lends curtains an airier, lighter feeling while giving drapes a heavier, more luxurious look. 
Use of Layers: Because curtains are not as thick as drapes, people may opt for layering these window treatments to block out more light. This is unnecessary when choosing drapes. For curtains, however, you can easily layer other window treatments underneath to achieve a darker room. These include liners, shades, or blinds. Liners can be hung behind the curtains on a separate rod or attached to the same rod as the curtains by using hooks. To add shades or blinds, simply layer the curtains on top. This will not only add color and texture but will soften the sometimes cold aesthetic of shades or blinds alone.  
When to Use Curtains 
Curtains are a versatile window treatment with many styles, fabric types, and lengths. Because of their multifaceted nature, curtains are a popular choice for spaces throughout the home. Sheer curtains make perfect additions where you would like to let light in and create a sunny, airy look. Curtains paired with other window dressings, such as shades or blinds, are great for areas where you would like to alternate between lots of light and keeping light out.
Not only does their versatility make them available for a wide range of light options, but it also allows curtains to offer a wide range of styles and designs. For example, sheer, windowsill-length curtains are perfect for adding a cottage-like, feminine flair to a room. Floor-length curtains with a loud pattern can add texture and color to a window with blinds. 
When to Use Drapes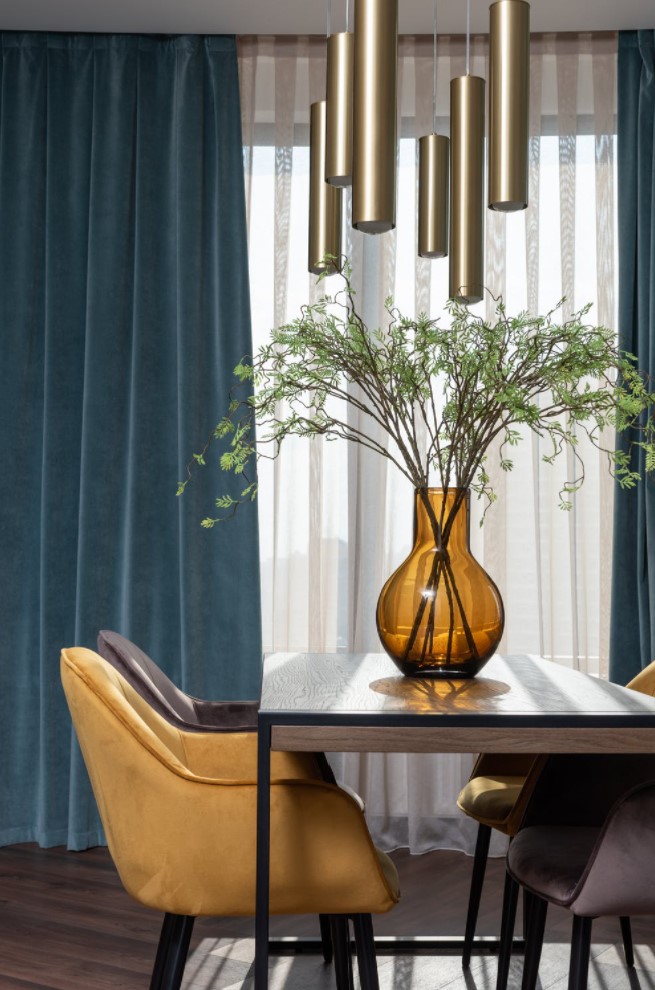 With their clean lines and more formal appearance, drapes can be used to add a polished, luxurious feeling to a room. Their thick fabric and back linings make them a popular choice for bedrooms or other areas where privacy and maximum light blocking are wanted. Due to their thick fabric and long lengths, drapes are also used to insulate a room and to muffle noise. This makes them a great choice for areas near busy, loud roads, or cold drafts.   
Dress Your Windows the Right Way
Well-chosen window treatments can quickly and dramatically change the overall feeling in a room. Whether you are searching for the perfect blackout drapes for your bedroom or complementary curtains for your family room, there is plenty of inspiration to be found on sites like Pinterest and Houzz. Custom-made window treatments are a popular choice of MGSD clients that want to achieve a specific aesthetic and find the perfect pair of curtains or drapes for their home.
Choosing the right window treatments is an important aspect of any interior design project. If you need professional advice and guidance for giving your space a new look, call our studio or stop into our showroom Jambalaya.